Set of 25 Baseball Cards (E102)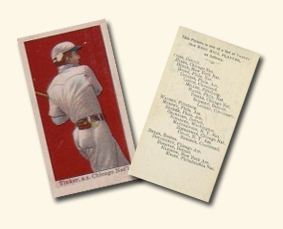 The E102 "Anonymous Set of 25" is an unnumbered baseball set from an unknown source, although its suspected that it's from a candy producer. The E102 set features color player artwork placed inside of a white border. The artwork, which is borrowed from the E92, E101, E105, and E106 sets, includes two extra poses, so the set actually reaches 29 cards. On the bottom front of the card lists the player's name, team and position. On the back, the checklist begins with the phrase "This picture is one of a set of twenty-five base ball players, as follows."
We are always buying Set of 25 Cards! Click Here for more information!
- 1909 - E102 - Set of 25
- 29 Cards That Measure 1-1/2" x 2-3/4"
- Common Card Value in "Good": $200
- Set Popularity: Popular (7 out of 10)
- Scarcity of Cards: Average (4)
- Difficulty to Complete Set: Difficult (6)
Looking to Buy Set of 25 Baseball Cards? Click here to see what we have!
Set of 25 Checklist:
# 1 Chief Bender - 1909 Set of 25 (E102)
# 2 Bob Bescher - 1909 Set of 25 (E102)
# 3 Hal Chase - 1909 Set of 25 (E102)
# 4 Ty Cobb - 1909 Set of 25 (E102)
# 5 Eddie Collins - 1909 Set of 25 (E102)
# 6 Sam Crawford - 1909 Set of 25 (E102)
# 7 Bill Donovan - 1909 Set of 25 (E102)
# 8 Red Dooin - 1909 Set of 25 (E102)
# 9 Patsy Dougherty - 1909 Set of 25 (E102)
# 10A Larry Doyle (Batting) - 1909 Set of 25 (E102)
# 10B Larry Doyle (Throwing) - 1909 Set of 25 (E102)
# 11 Johnny Evers - 1909 Set of 25 (E102)
# 12 Red Kleinow - 1909 Set of 25 (E102)
# 13 Otto Knabe - 1909 Set of 25 (E102)
# 14 Nap Lajoie - 1909 Set of 25 (E102)
# 15 Hans Lobert - 1909 Set of 25 (E102)
# 16 Sherry Magee - 1909 Set of 25 (E102)
# 17 Christy Mathewson - 1909 Set of 25 (E102)
# 18A Dots Miller (Batting) - 1909 Set of 25 (E102)
# 18B Dots Miller (Fielding) - 1909 Set of 25 (E102)
# 19 Danny Murphy - 1909 Set of 25 (E102)
# 20 Germany Schaefer - 1909 Set of 25 (E102)
# 21 Boss Schmidt - 1909 Set of 25 (E102)
# 22 Boss Smith (Schmidt) - 1909 Set of 25 (E102)
# 23 Dave Shean - 1909 Set of 25 (E102)
# 24 Joe Tinker - 1909 Set of 25 (E102)
# 25A Honus Wagner (Batting) - 1909 Set of 25 (E102)
# 25B Honus Wagner (Throwing) - 1909 Set of 25 (E102)
# 26 Heinie Zimmerman - 1909 Set of 25 (E102)