Philadelphia Caramel Baseball Cards (E95)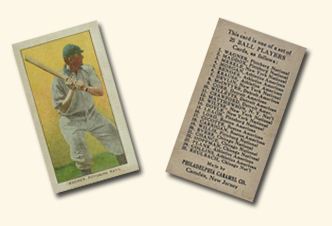 Issued in 1909 by the Philadelphia Carmel Company, the E95 set features a baseball player in front of a duel color background. On the front of the card at the bottom is the player's name and team name. Although some E95's may have a blank back, most feature a full numbered checklist of the 25 player set with a bottom inscription that reads "Made By Philadelphia Carmel Co., Camden NJ."
We are always buying Philadelphia Caramel Cards! Click Here for more information!
- 1909 - E95 - Philadelphia Caramel
- 25 Cards That Measure 1-1/2" x 2-5/8"
- Common Card Value in "Good": $60
-Set Popularity: Popular (6 out of 10)
- Scarcity of Cards: Average (4)
- Difficulty to Complete Set: Difficult (6)
Looking to Buy Philadelphia Caramel Baseball Cards? Click here to see what we have!
Philadelphia Caramel Checklist:
# 1 Chief Bender 1909 Philadelphia Caramel (E95)
# 2 Bill Carrigan 1909 Philadelphia Caramel (E95)
# 3 Frank Chance 1909 Philadelphia Caramel (E95)
# 4 Ed Cicotte 1909 Philadelphia Caramel (E95)
# 5 Ty Cobb 1909 Philadelphia Caramel (E95)
# 6 Eddie Collins 1909 Philadelphia Caramel (E95)
# 7 Sam Crawford 1909 Philadelphia Caramel (E95)
# 8 Art Devlin 1909 Philadelphia Caramel (E95)
# 9 Larry Doyle 1909 Philadelphia Caramel (E95)
# 10 Johnny Evers 1909 Philadelphia Caramel (E95)
# 11 Solly Hoffman 1909 Philadelphia Caramel (E95)
# 12 Harry Krause 1909 Philadelphia Caramel (E95)
# 13 Tommy Leach 1909 Philadelphia Caramel (E95)
# 14 Harry Lord 1909 Philadelphia Caramel (E95)
# 15 Nick Maddox 1909 Philadelphia Caramel (E95)
# 16 Christy Mathewson 1909 Philadelphia Caramel (E95)
# 17 Matty McIntyre 1909 Philadelphia Caramel (E95)
# 18 Fred Merkle 1909 Philadelphia Caramel (E95)
# 19 Cy Morgan 1909 Philadelphia Caramel (E95)
# 20 Eddie Plank 1909 Philadelphia Caramel (E95)
# 21 Ed Reulbach 1909 Philadelphia Caramel (E95)
# 22 Honus Wagner 1909 Philadelphia Caramel (E95)
# 23 Ed Willetts (Willett) 1909 Philadelphia Caramel (E95)
# 24 Vic Willis 1909 Philadelphia Caramel (E95)
# 25 Hooks Wiltse 1909 Philadelphia Caramel (E95)