American Caramel Baseball Cards (E106)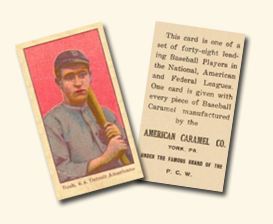 Issued by the American Caramel Company of York, PA, the 48 card E106 set features color player portraits. Printed within the white border on the bottom of the card is the player's name, position and team name. The artwork is borrowed from the earlier E90-1 and E92 sets. The unnumbered set also carries a sponsor message on the back of the card that reads "this card is one of a set of forty-eight leading Baseball Players in the National, American and Federal Leagues. One card is given with every piece of Baseball Caramel manufactured by the American Caramel Co., York PA." The last line reads "under the famous brand of the P.C.W."
We are always buying American Caramel Cards! Click Here for more information!
- 1915 - E106 - American Caramel
- 48 Cards That Measure 1-1/2" x 2-3/4"
- Common Card Value in "Good": $60
- Set Popularity: Popular (6 out of 10)
- Scarcity of Cards: Average (5)
- Difficulty to Complete Set: Average (5)
Looking to Buy American Caramel Baseball Cards? Click here to see what we have!
American Caramel Checklist:
# 1 Jack Barry - 1915 American Caramel (E106)
# 2A Chief Bender (Striped Hat) - 1915 American Caramel (E106)
# 2B Chief Bender (White Hat) - 1915 American Caramel (E106)
# 3 Bob Bescher - 1915 American Caramel (E106)
# 4 Roger Bresnahan - 1915 American Caramel (E106)
# 5 Al Bridwell - 1915 American Caramel (E106)
# 6 Donie Bush - 1915 American Caramel (E106)
# 7A Hal Chase (Portrait) - 1915 American Caramel (E106)
# 7B Hal Chase (Catching) - 1915 American Caramel (E106)
# 8A Ty Cobb (Batting Front) - 1915 American Caramel (E106)
# 8B Ty Cobb (Batting Side) - 1915 American Caramel (E106)
# 9 Eddie Collins - 1915 American Caramel (E106)
# 10 Sam Crawford - 1915 American Caramel (E106)
# 11 Ray Demmitt - 1915 American Caramel (E106)
# 12 Bill Donovan - 1915 American Caramel (E106)
# 13 Red Dooin - 1915 American Caramel (E106)
# 14 Mickey Doolan - 1915 American Caramel (E106)
# 15 Larry Doyle - 1915 American Caramel (E106)
# 16 Clyde Engle - 1915 American Caramel (E106)
# 17 Johnny Evers - 1915 American Caramel (E106)
# 18 Art Fromme - 1915 American Caramel (E106)
# 19B George Gibson (Front) - 1915 American Caramel (E106)
# 19A George Gibson (Back) - 1915 American Caramel (E106)
# 20 Topsy Hartzell - 1915 American Caramel (E106)
# 21 Fred Jacklitsch - 1915 American Caramel (E106)
# 22 Hugh Jennings MG - 1915 American Caramel (E106)
# 23 Otto Knabe - 1915 American Caramel (E106)
# 24 Nap Lajoie - 1915 American Caramel (E106)
# 25 Hans Lobert - 1915 American Caramel (E106)
# 26 Rube Marquard - 1915 American Caramel (E106)
# 27 Christy Mathewson - 1915 American Caramel (E106)
# 28 John McGraw MG - 1915 American Caramel (E106)
# 29 George McQuillan - 1915 American Caramel (E106)
# 30 Dots Miller - 1915 American Caramel (E106)
# 31 Danny Murphy - 1915 American Caramel (E106)
# 32 Rebel Oakes - 1915 American Caramel (E106)
# 33 Eddie Plank - 1915 American Caramel (E106)
# 34 Germany Schaefer - 1915 American Caramel (E106)
# 35 Tris Speaker - 1915 American Caramel (E106)
# 36 Oscar Stanage - 1915 American Caramel (E106)
# 37 George Stovall - 1915 American Caramel (E106)
# 38 Jeff Sweeney - 1915 American Caramel (E106)
# 39B Joe Tinker (Portrait) - 1915 American Caramel (E106)
# 39A Joe Tinker (Batting) - 1915 American Caramel (E106)
# 40A Honus Wagner (Batting) - 1915 American Caramel (E106)
# 40B Honus Wagner (Throwing) - 1915 American Caramel (E106)
# 41 Hooks Wiltse - 1915 American Caramel (E106)
# 42 Heinie Zimmerman - 1915 American Caramel (E106)