1963 Topps Baseball Cards: One of the Best '60s Sets, but Frustrating to Build
The
1963 Topps baseball card set
with its large, bright, glossy photographs of the players, ranks among the best Topps sets of the 1960s in terms of eye appeal. The smaller black & white photo inside the circle is an attractive addition to the card. The color of the
1963 Topps
set is a refreshing reprieve from the dark, dank cards that Topps produced in the previous two years. Even the 1963 card backs, neatly arranged and printed in black with yellow-orange backgrounds are some of the most beautiful ever produced.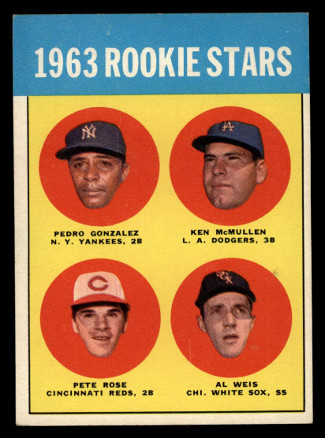 The
1963 Topps baseball card set
includes 576 cards, 32 of whom are Hall of Fame players. The
1963 Topps set
also includes rookie cards for Pittsburgh Pirates great
Willie Stargell
and the controversial leader of the Big Red Machine and all-time hits leader, Pete Rose.
If Rose was pictured on a single-player card, it would also benefit the prestige of the 1963 Topps set as a whole. If the set had a full-sized attractive Rose Rookie Card as its focal point, it is probable that 1963 Topps would be remembered as one of the best sets of all time and rank just below the 1952 Topps set in popularity. Unfortunately, it was just not meant to be.
In some ways, the
1963 Topps baseball card sets
are a throwback to the 1953 Topps set. The cards feature large color photos that have you concentrating on player faces, just as the 1953 Topps set did.
Four-Player Rookie Cards Featured in 1963 Topps Set
The
1963 Topps baseball card set
also features the first cards that show the New York Mets and Houston Colt .45s players in their uniforms. And the strange "floating head" rookie cards -- sprinkled throughout the set -- are memorable with four players featured per card, including the #537 Pete Rose rookie card.
1963 Topps Can Be A Frustrating Set to Build
The
1963 Topps baseball cards
can be a very frustrating set to try to build because of an oddity with the production of the cards in the first three series produced that year. The number of cards produced during series 1 through 3 far outnumber the population of cards in Series 4 through 7. The
1963 Topps set
is also unique among vintage baseball cards sets in that it has officially two "high numbered" series (the 6th and 7th ), starting with card #447.
As opposed to building many other sets, the unique problem with the 1963 Topps set is not the scarcity of the high number cards, but the abundance of the first 283 cards in the set. For some reason, Topps greatly overproduced the cards in Series 1 through 3 in 1963 - which are the cards numbered 1 to #283.
No other Topps set has such a lopsided ratio of low number to high numbered cards. This unbalance makes
1963 Topps
a frustrating and somewhat awkward set for collectors to build.