1933 Goudey Baseball Cards (R319)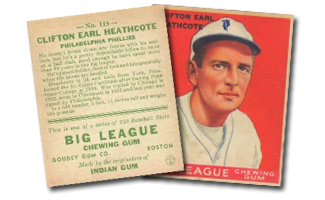 The
1933 Goudey baseball card set
includes 239 cards that measure 2 3/8" by 2 7/8". It was the company's first baseball issue. The set features color reproductions of the player's portrait or action pose, the card backs offer a player biography. 
The 1933 Goudey set features card #106 Napoleon Lajoie which was printed in 1934 and issued with a 1934 card front and 1933 card back. Lajoie's card number 106 is so rare that it is not accounted for in the complete set prices and actually makes the set 240 cards. 
The 4 Babe Ruth and 2 Lou Gehrig cards are very popular with collectors.
Key Hall-of-Famers included in this issue are the: 1933 Goudey # 106 Nap Lajoie, #29 Jimmie Foxx, #53 Babe Ruth, #92 Lou Gehrig, #144 Babe Ruth, #149 Babe Ruth, #154 Jimmie Foxx, #160 Lou Gehrig, #181 Babe Ruth and #223 Dizzy Dean.
By Dean Hanley
Click here if you want to sell your 1933 Goudey Baseball Cards (R319) .