1912 T202 Hassan Triple Folders Baseball Cards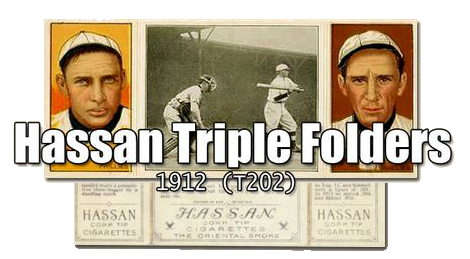 The 1912 T202 Hassan Triple Folders baseball card set consists of 132 cards that measure 2¼" by 5½" when unfolded. The T202 baseball cards have two color player portraits on each side and then a black and white panel.  The scene on the front of the card is described on the back in a short paragraph. 
 Many of the players are repeated in this set.  Also, the cards very closely resemble cards from the T205 baseball card set.  So much so, that often collector's will confuse the two  if the side panels a of a T202 Hassan card is detached from the rest of the card.

Hall-of-Famers featured in this issue include the: T202 Ty Cobb, Frank Chance, Chief Bender, Fred Clarke, Eddie Collins, Frank Home Run Baker, Christy Mathewson, Tris Speaker and Walter Johnson.
By Dean Hanley
CLICK HERE if you want to sell your 1912 T202 Hassan Triple Folders Baseball Cards.