1922 E120 American Caramel Baseball Cards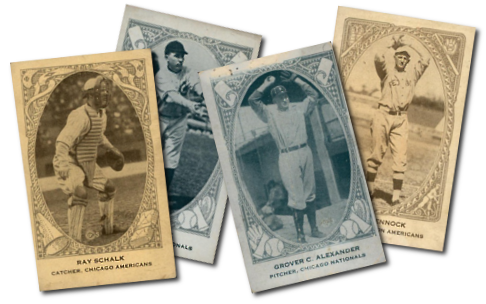 The 1922 American Caramel E120 baseball card set consists of at 240 cards that measure 2" by 3¼".  The E120 American Caramel cards were some of the most popular cards at the time of their release, mainly due to what players were featured and the design of the cards.
The American League cards have a tan tint and the National League cards have a green tint. The E120 cards have eight different frames, one for each team.  The backs of the cards feature a checklist of the team the player on the front represented.
An interesting part of this set is the fact that Ty Cobb's name is misspelled on the front of the card "Cob".
Some of the Hall-of-Famers included in this issue are: E120 American Caramel Eddie Collins, Tris Speaker, Ty Cobb, Frank Home Run Baker, Babe Ruth, Walter Johnson, Rube Marquard, Frankie Frisch, Rabbit Maranville and Rogers Hornsby.
By Dean Hanley
CLICK HERE if you want to sell your 1922 E120 American Caramel Baseball Cards.