1935 National Chicle Football Cards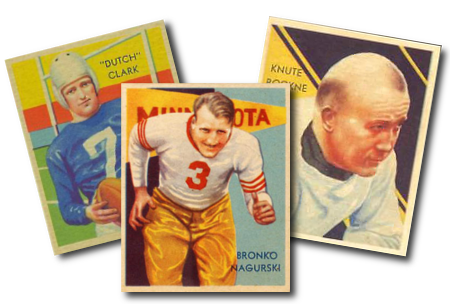 The 1935 National Chicle Football Set consists of 36 very rare cards.  Originally intended to be 240 cards, the National Chicle Company fell far short of their goal.  However, this set broke ground by being the first set to feature players from the National Football League, including six Hall of Fame players. Among them are: Dutch Clark, Cliff Battles, Clark Hinkle and the ultra-rare Bronko Nagurski card, which many football collectors compare to the T206 Honus Wagner card.  The set also features a card for the legendary football coach Knute Rockne, who is the only subject in the set who was not a NFL player.  

The beautifully designed  cards feature a colorful player image set in front of a unique football-inspired background and the full name of the player printed on the front of the card. 
By Dean Hanley
CLICK HERE if you want to sell your 1935 National Chicle Football Cards.