1909-11 T206 Piedmont & Sweet Caporal Back Baseball Cards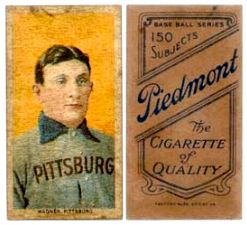 The T206 set is often considered to be the most famous Pre-War set in existence, mainly because of the Honus Wagner card in this set. The cards were produced over a three-year period (1909 to 1911) by the American Tobacco Company. These tiny cards were included in packs of cigarettes or loose tobacco for many brands as an incentive to purchase the tobacco.
The T206 set consists of 523 cards. Over 100 of the cards picture minor league players. There are also multiple cards for the same player in different poses, different uniforms, or even with different teams after being traded (since the set was issued over a period of three years). The cards measure 1 7⁄16 by 2 5⁄8 inches (3.7 cm × 6.7 cm) which is considered by many collectors to be the standard tobacco card size.
The most common cards in the set have backs for Piedmont and Sweet Caporal tobacco brands.
By Dean Hanley
Click here if you want to sell your 1909-11 T206 Piedmont & Sweet Caporal Back .