1909-11 T206 Old Mill Back Baseball Cards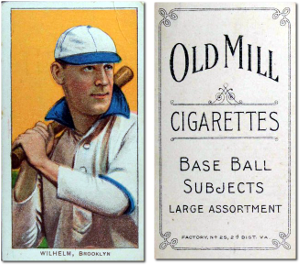 The 
T206 set
 is often considered to be the most famous Pre-War set in existence.  The cards measure 1 7⁄16" x 2 5⁄8" inches which is considered by many collectors to be the standard tobacco card size.  
T206 Baseball Cards can be found with various backs, based on the company whose product they were sold with.  Cards with the Old Mill Back are not too hard to find  but are not considered as common as their Piedmont and Sweet Caporal T206 counterparts.  For this reason, cards with Old Mill Backs might command a slight premium but are still readily collected by your average T206 "white borders" collector.
Some of the key Hall-of-Famers known to be included with an Old Mill Back are: Ty Cobb, Walter Johnson, Willie Keeler, Christy Mathewson, John McGraw, Joe Tinker and Cy Young.
By Dean Hanley
Click here if you want to sell your 1909-11 T206 Old Mill Back Baseball Cards.