1909-10 T6 College Series Cabinets Baseball Cards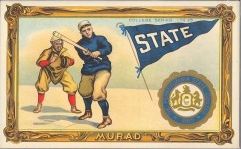 This rare set consists of 25 cards, each featuring a different American university. Each card measures 5" x 8" and the set was available as a premium for redeeming 15 Murad cigarette coupons for each card. The set is tough to find in any condition and virtually impossible in high grade.
The artwork is among the more attractive of any early 20th century tobacco card set and the card stock is slightly heavier. The backs include the card number, series, a list of the 25 cards in the series along with an ad and an expiration date for the mail-in premium of June 30, 1911.
By Dean Hanley
Click here if you want to sell your 1909-10 T6 College Series Cabinets .