1909-10 E97-2 C.A. Briggs (B&W) Baseball Cards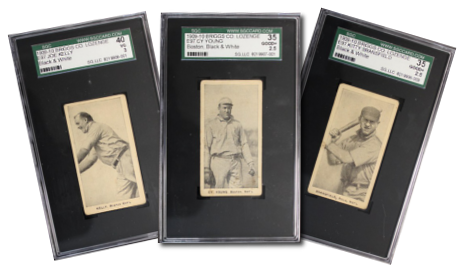 The
1909-10 E97-2 C.A. Briggs Black and White Baseball Card Set
contains 30 cards that measure 1 1/2" x 2 3/4".  The back of the card has a checklist in alphabetical order of all the players included in the set.  The bottom of the backs read "C.A. Briggs Co. Lozenge Makers Boston, Mass."
There is also a much scarcer E97-2 Briggs Black and White Proof Set in which the backs are blank.  A variation is known for the Cy Young card (Irv Young pictured) in which he is listed as a Cleveland Indian (Naps) or a Boston Brave.
Hall-of-Famers included in this issue are:  E97-2 C.A. Briggs Willie Keeler, Joe Kelley and Cy Young.
By Dean Hanley
CLICK HERE if you want to sell your 1909-10 E97-2 C.A. Briggs (B&W) Baseball Cards .