1963 Topps Baseball Cards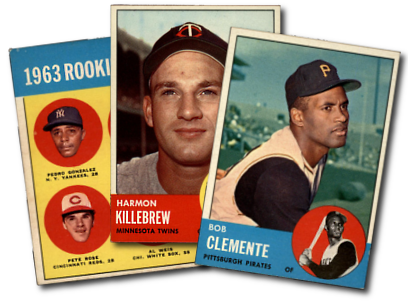 The 1963 Topps baseball card set features 576 standard size cards, which measure 2½" by 3½".  The subsets for the 1962 Topps baseball cards are the league leaders (1-10) and World Series highlights (142-148).  The first three series of cards (numbers 1-283) were printed in high numbers.  Starting at card #284, the card population greatly decreases. 
The high number series, with even scarcer cards, ranges from card number 523-576.
The key Rookie Cards for this set include: #537 Pete Rose and #553 Willie Stargell.
By Dean Hanley
CLICK HERE if you want to sell your 1963 Topps Baseball Cards.