1909 T212-1 Obak Baseball Cards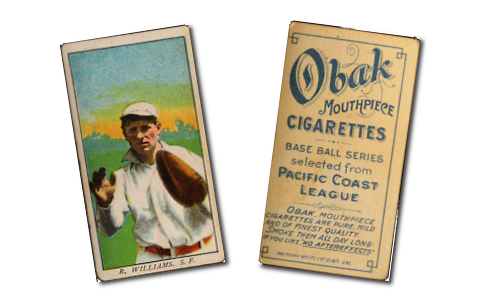 The
1909 T212-1 Obak Baseball Card Set
was released by the Obak Tobacco company.  The
T212 set
contains three subsets.  This first subset contains 76 cards of players from the Pacific Coast League.  The
T212-1 Baseball Cards
measure 1 1/2" x 2 5/8" (standard tobacco card size) and heavily resemble the popular
T206 baseball card set
.  
The first subset of the 1909 T212 cards have the text on the back printed in blue.  The main way of distinguishing them from the larger second subset is that the backs, especiallly the word "Obak" are fashioned in an "Old English" style with italicized fonts.
The most notable cards in this set are the T212: Chick Gandil, Spider Baum, Ping Bodie and Duffy Lewis cards.
By Dean Hanley
CLICK HERE if you want to sell your 1909 T212-1 Obak Baseball Cards.
Blue Print Old English Style Font on Back
Qty