1948 Bowman Reprints Bowman Basketball Reprints Complete Set 8 - NM/MT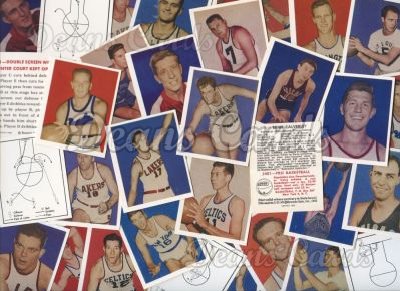 Representative Image
One of the first set of basketball cards ever issued, the 1948 Bowman Basketball Cards were reprinted in 1990.  The original 1948 Bowman Basketball card set consists of 72 cards, featuring 60 players and 12 play diagrams.  Both the original and reprint basketball card sets measure 2 1/16" x 2½".  The fronts of the 1948 Bowman Basketball cards are color photographs against a colored background, while the backs have statistics, biographies, and special offers for Bowman novelty items.
Players featured in this set include: Andy Phillip, Bill Davies, red Holzman, Joe Fulks, Buddy Jeanette, Chuck Halbert, Arnie Risen, and Jim Pollard.

These cards are very rare and common cards can cost up to $75, while the George Mikan rookie card costs $2500 in Excellent Mint condition. A complete set in Excellent/Mint condition would cost over $8,000.

Price
$65.00
$61.75 after 5% discount