1975 Topps -79 Milwaukee Brewers Team Starter Set / Lot - Md
EX/MT - 6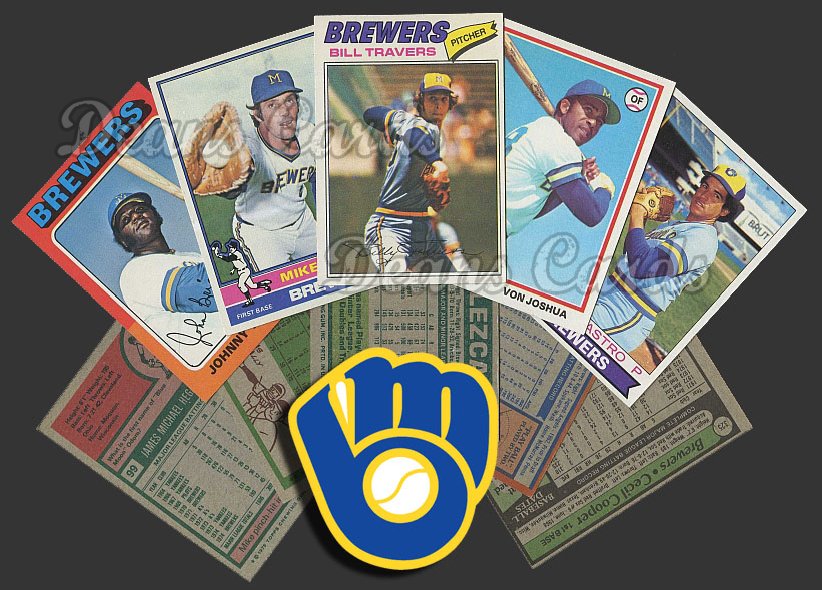 Representative Image
This 1975-79 Milwaukee Brewers Team Starter Set / Lot contains 50 differentlate  1970's Topps cards of Milwaukee Brewers players.
This Milwaukee Brewers Team Set will include many of the following players: Robin Yount, Sixto Lezcano, Don Money, Gorman Thomas, Charlie Moore, Sal Bando, Cecil Cooper, George Scott, Ben Oglivie, Paul Molitor, Von Joshua, Darrell Proter, Jim Wohlford and many more.
This lot will also include many of these top Brewers pitchers: Bill Travers, Jim Slaton, Jerry Augustine, Mike Caldwell, Lary Sorensen, Bill Castro, Moose Haas, and Eduardo Rodriguez.
Team Starter Sets are a great way to buy large quantities of cards at an affordable price. Dean's Cards Starter Sets are priced 25%-50% lower than if you purchased the cards individually. On top of the already discounted prices, our quantity discount still applies!
The condition of the cards will vary between "Very Good" to "Excellent/Mint", for non-collectors, these cards are in "Average" condition. Some cards will show wear on the corners, but are still very collectible and attractive to the eye.
All cards in the Starter Sets are our choice, but there will be a wide variety of different players, with plenty of your favorites. This team starter set makes a great gift for any Milwaukee Brewers fan.
Please note that Starter Sets are the only product we sell that cannot be returned due to the labor involved in building the set.