1973 Topps Baseball Complete Set
| | |
| --- | --- |
| Year | 1973 |
| Manufacturer | Topps |
EX/MT - 6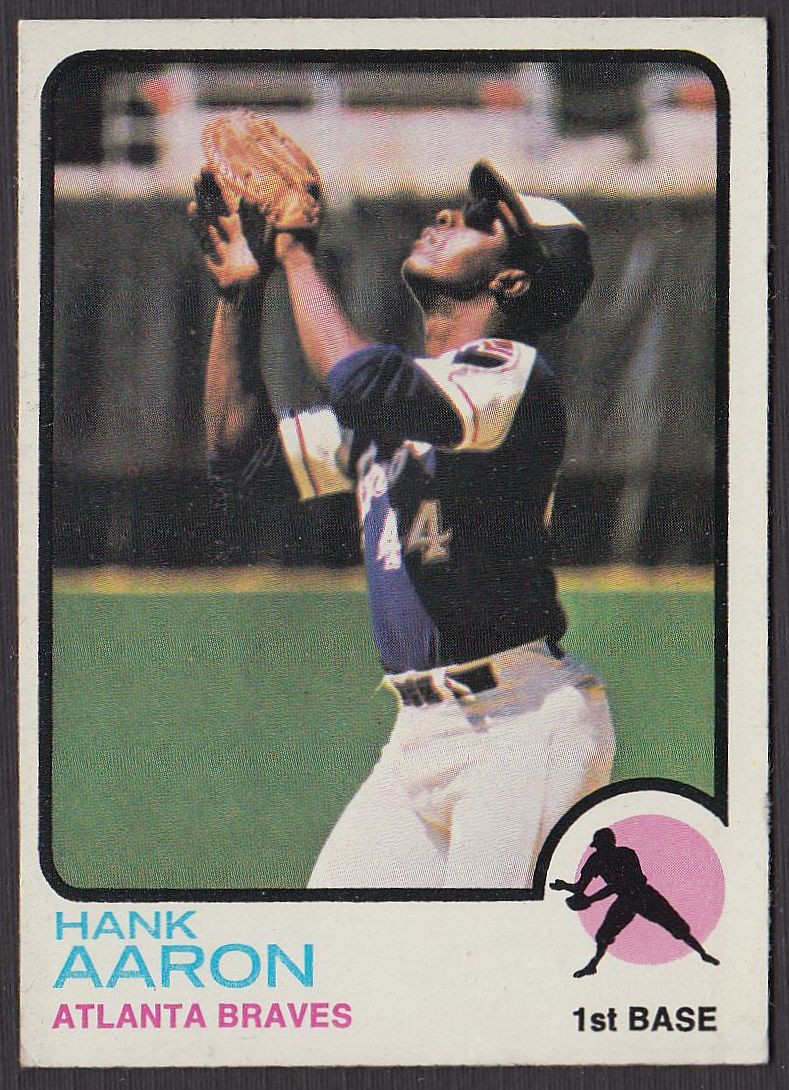 The 1973 Topps set contains 660 cards is considered the last "Vintage" set because it is the last time Topps printed a set in series. The front of the card has an action photo of the player within a black frame. The player name and team is below in color. In the bottom right corner is the player's position with a graphic icon. The reverse provides the player's biographical and statistical information.
Important sub-series for the 1973 Topps set include: League Leaders cards ((61-68), Playoffs cards (201-202), World Series cards (203-210), Boyhood Photos (341-346), All-Time Leaders cards (471-478), and Rookie Prospects (601-616). This set also includes the last Willie Mays card.
Players included in this set that are now in the Hall of Fame: Clemente, Fingers, B. Robinson, Aaron, Rose, Palmer, Aparicio, Killebrew, F. Robinson, Jenkins, Gibson, Fisk, B. Williams, Bench, Ryan, Morgan, Hunter, Mathews MG, Yaz, Jackson, Berra MG, Perez, Kaline, Carlton, Mays, Brock, Carew, Seaver, Stargell, Bench, Perry, McCovey, Marichal, Niekro, and Schmidt.
The high-dollar cards grade as follows:
#1 All Time Home Run Leaders
(Ruth, Aaron, and Mays): Excellent/Mint
#50 Clemente: Near Mint/Mint
#100 Aaron: Excellent
#130 Rose: Excellent/Mint
#220 Ryan: Excellent/Mint
#305 Mays: Excellent
#615 Cey & Schmidt RC: Excellent


Dean's Cards offers a 100% Money Back Satisfaction Guarantee on all purchases. Just contact us within ten days of the purchase date and we will refund your money or, when possible, replace the cards.
Price
$1,562.49
$1,249.99 after 20% discount