1982 Donruss Baseball Complete Set
NM/MT - 8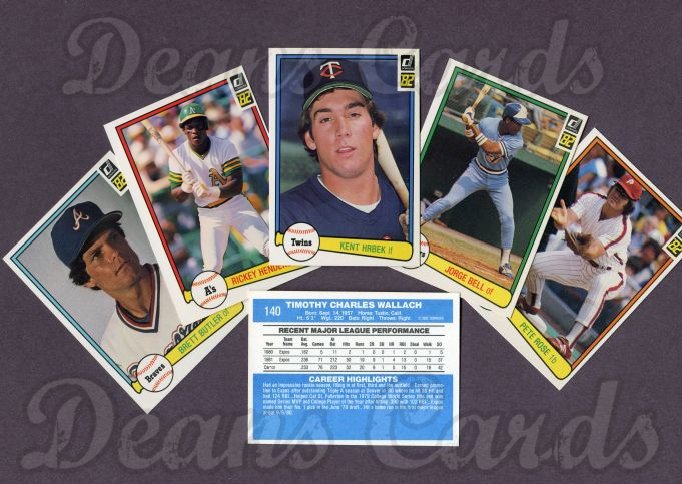 Representative Image
The 1982 Donruss set contains 660 cards with blue and white backs. Cards 1-26 are Diamond Kings and cards 654-660 are unnumbered checklists.
The 1982 Donruss set includes the rookie cards of baseball greats Wade Boggs, Ryne Sandberg, Tony Gwynn, and Cal Ripken, Jr.
This set is loaded with stars and hall-of-famers including: Carl Yastrzemski, Nolan Ryan, Ozzie Smith, Rickey Henderson, Eddie Murray, Robin Yount, George Brett, Johnny Bench, Mike Schmidt, Reggie Jackson, Paul Molitor, Tom Seaver, Willie Stargell, Joe Morgan, Jim Palmer, Rod Carew, Fergie Jenkins, Gaylord Perry, Rollie Fingers, Steve Carlton, Phil Niekro, Don Sutton, Sparky Anderson, Carlton Fisk, Tony Perez, Dave Winfield, Gary Carter, Eddie Murray, Dennis Eckersley, Bruce Sutter, Goose Gossage, Dick Williams, Cal Ripken, Jr., Pete Rose, Jorge Bell, Dave Righetti, Lee Smith and Dave Stewart.