1953 Topps Archives REPRINT St. Louis Cardinals Team Set 8 - NM/MT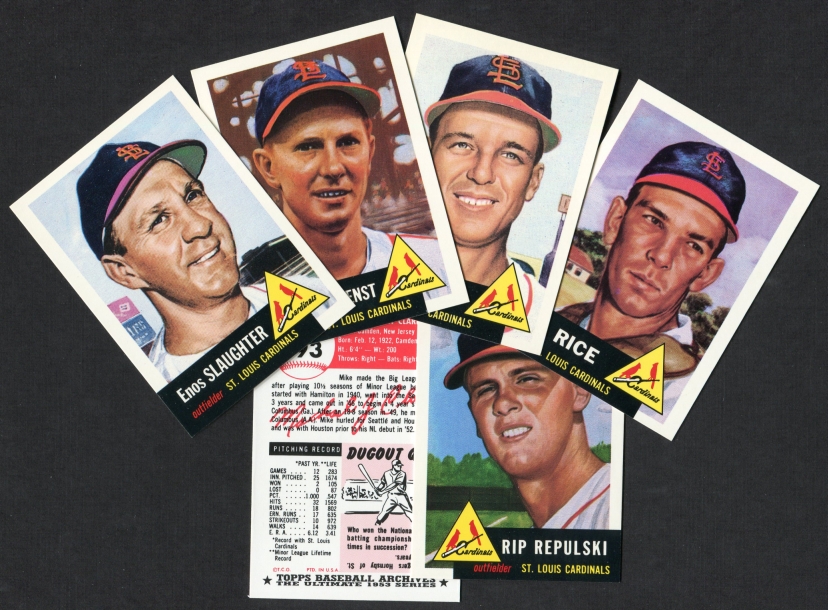 This St. Louis Cardinals complete team set contains all Cardinals players from the 1953 Topps Archives set. The set was issued in 1991 and includes all of the cards from the original set except Billy Loes, who did not give permission. It also includes 57 additional cards that were no included in the original set, such as Hank Aaron and Ted Williams.

The 1953 Cardinals finished 3rd in the National League with a record of 83-71.
Please note that these cards are reprints and NOT original 1953 Topps.
The following players are included in this set:
# 16 Peanuts Lowrey
# 21 Billy Johnson
# 41 Enos Slaughter
# 56 Gerry Staley
# 60 Cloyd Boyer
# 68 Del Rice
# 70 Ed Yuhas
# 78 Red Schoendienst
# 93 Hal Rice
# 128 Wilmer Mizell
# 168 Willard Schmidt
# 172 Rip Repulski
# 179 Gene Hermanski
# 183 Stu Miller
# 189 Ray Jablonski
# 190 Dixie Walker CO
# 193 Mike Clark
# 204 Dick Bokelman
# 205 Vern Benson
# 218 Les Fusselman
# 231 Solly Hemus
# 273 Harvey Haddix
# 274 John Riddle
# 300 Eddie Stanky
# 326 D.Dean/A.Simmons HOF