1953 Topps Archives REPRINT New York Giants Team Set
NM/MT - 8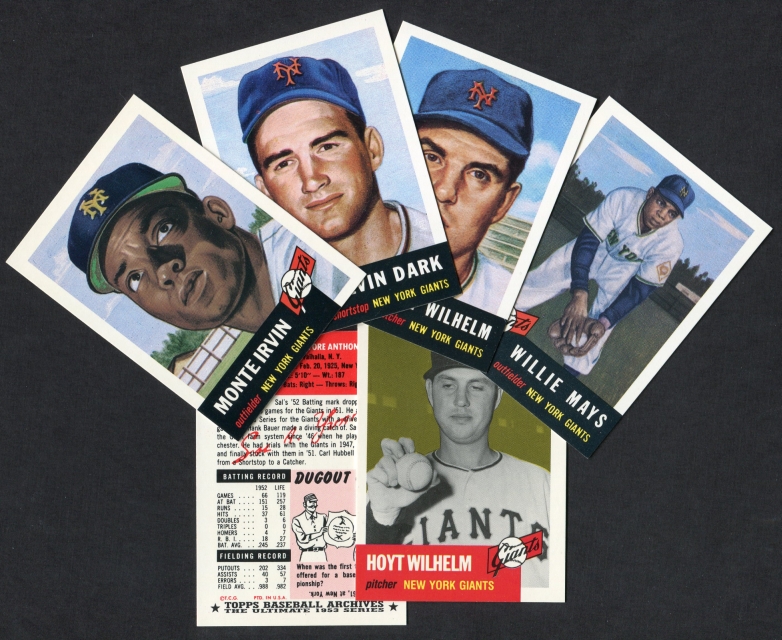 This San Francisco Giants (then located in New York) complete team set contains all Giants players from the 1953 Topps Archives set. The set was issued in 1991 and includes all of the cards from the original set except Billy Loes, who did not give permission. It also includes 57 additional cards that were no included in the original set, such as Hank Aaron and Ted Williams.
The 1953 Giants finished in 5th place in the National League, with a record of 70-84.

Please note that these cards are reprints and NOT original 1953 Topps.
The following players are included in this set:
# 11 Sal Yvars
# 20 Hank Thompson
# 38 Jim Hearn
# 62 Monte Irvin
# 109 Alvin Dark
# 115 George Spencer
# 120 Davey Williams
# 126 Bill Connelly
# 151 Hoyt Wilhelm
# 182 Bobby Hofman
# 244 Willie Mays
# 260 Sam Calderone
# 292 Whitey Lockman
# 299 Dusty Rhodes
# 303 Sal Maglie
# 309 Leo Durocher MG
# 312 Hoyt Wilhelm
# 323 Wes Westrum
# 328 Bill Rigney
# 330 Bobby Thomson
Price
$50.00
$47.50 after 5% discount