1953 Topps Archives REPRINT Boston Red Sox Team Set
NM/MT - 8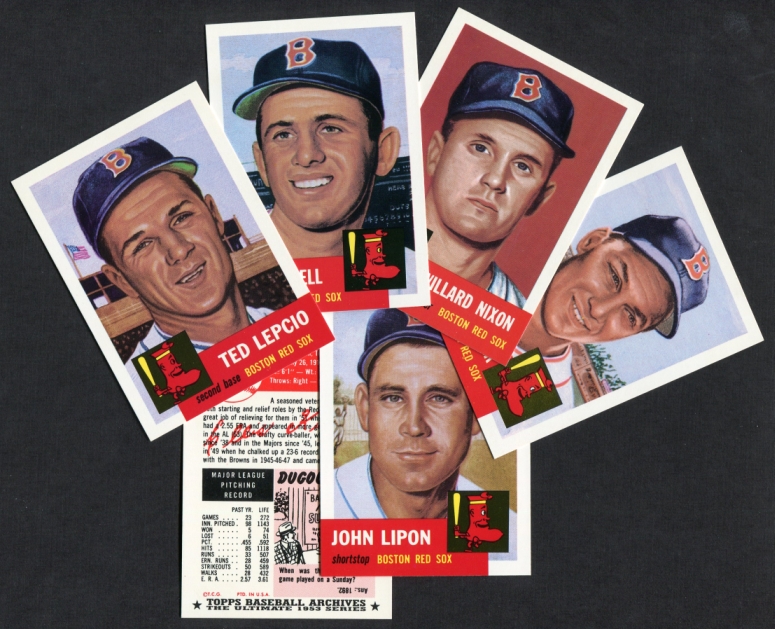 This Boston Red Sox complete team set contains all Red Sox players from the 1953 Topps Archives set. The set was issued in 1991 and includes all of the cards from the original set except Billy Loes, who did not give permission. It also includes 57 additional cards that were no included in the original set, such as Hank Aaron and Ted Williams.

The 1953 Red Sox finished 4th with a record of 84 wins and 69 losses.

Please note that these cards are reprints and NOT original 1953 Topps.
The following players are included in this set:
# 69 Dick Brodowski
# 94 Bill Kennedy
# 138 George Kell
# 139 Sammy White
# 149 Dom DiMaggio
# 169 Dizzy Trout
# 170 Bill Werle
# 181 Al Zarilla
# 184 Hal Brown
# 248 Gene Stephens
# 251 Sid Hudson
# 280 Milt Bolling
# 286 Jimmy Piersall
# 291 Hoot Evers
# 304 Lou Boudreau MG
# 319 Ted Williams
# 334 Billy Goodman