1953 Topps Archives REPRINT Washington Senators Team Set
NM/MT - 8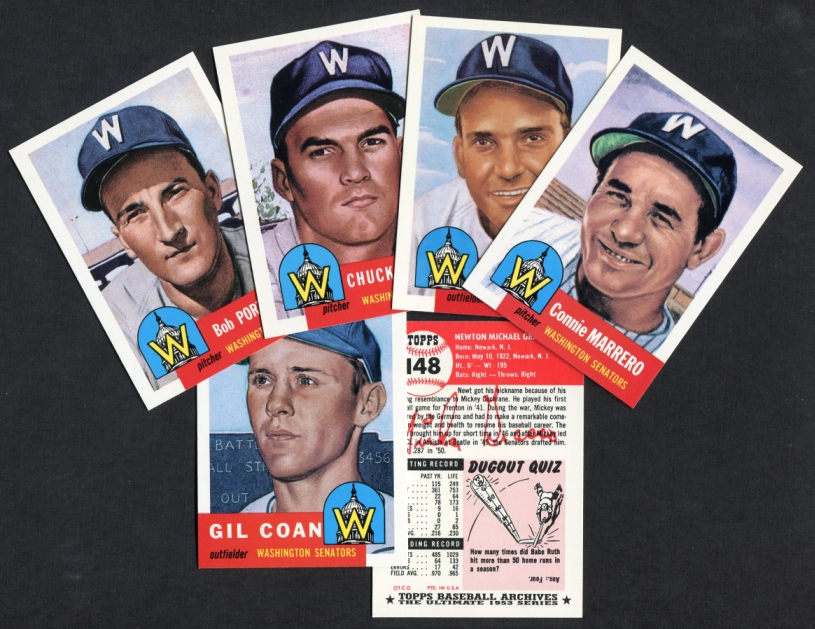 This Washington Senators complete team set contains all Senators players from the 1953 Topps Archives set. The set was issued in 1991 and includes all of the cards from the original set except Billy Loes, who did not give permission. It also includes 57 additional cards that were no included in the original set, such as Hank Aaron and Ted Williams.
The 1953 Senators finished 5th place in the American League with a record of of 76-76.
Please note that these cards are reprints and NOT original 1953 Topps.
The following players are included in this set:
# 13 Conrado Marrero
# 51 Frank Campos
# 89 Chuck Stobbs
# 108 Bob Porterfield
# 133 Gil Coan
# 148 Mickey Grasso
# 159 Wayne Terwilliger
# 164 Frank Shea
# 219 Pete Runnels UER
# 224 Lou Sleater
# 241 Al Sima
# 256 Les Peden
# 262 Bob Oldis
# 265 Jackie Jensen
# 287 Mickey Vernon
# 313 Bucky Harris MG