1953 Topps Archives REPRINT Chicago White Sox Team Set
NM/MT - 8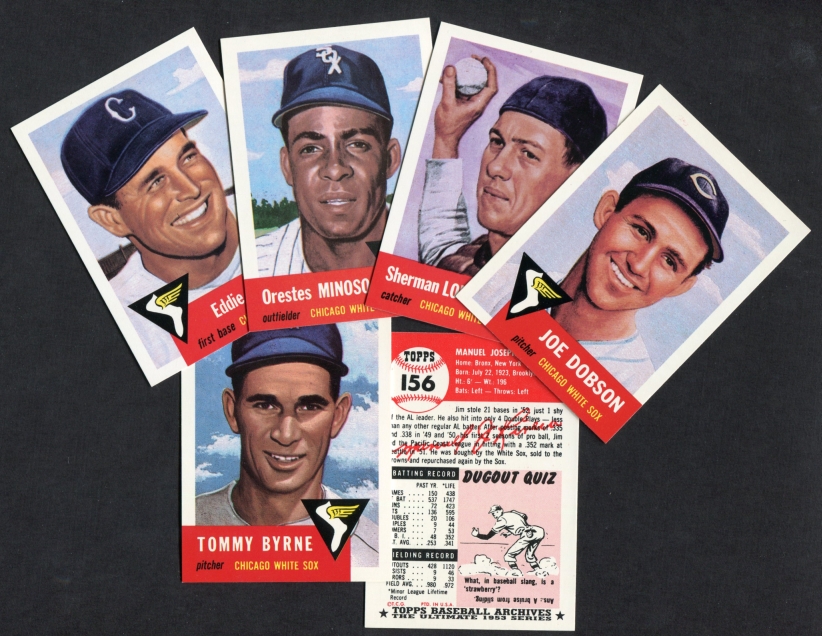 This Chicago White Sox complete team set contains all White Sox players from the 1953 Topps Archives set. The set was issued in 1991 and includes all of the cards from the original set except Billy Loes, who did not give permission. It also includes 57 additional cards that were no included in the original set, such as Hank Aaron and Ted Williams.
The 1953 White Sox team finished in 3rd place in the American League with a record of 89-65.

Please note that these cards are reprints and NOT original 1953 Topps.
The following players are included in this set:
# 5 Joe Dobson
# 53 Sherm Lollar
# 66 Minnie Minoso
# 73 Eddie Robinson
# 123 Tommy Byrne
# 143 Walter Pierce
# 145 Harry Dorish
# 156 Jim Rivera
# 196 Bob Keegan
# 229 Rocky Krsnich
# 240 Fred Marsh
# 250 Bob Wilson
# 257 Bob Boyd
# 270 Vern Stephens
# 322 Paul Richards MG
# 331 Nellie Fox