1911 T205 Reprint T205 Gold Border REPRINT Boston Red Sox Team Set
NM/MT - 8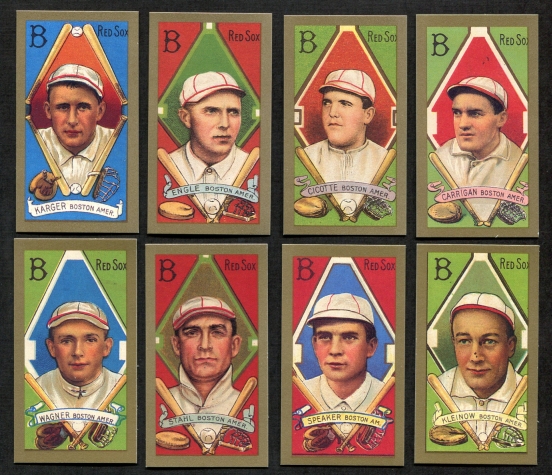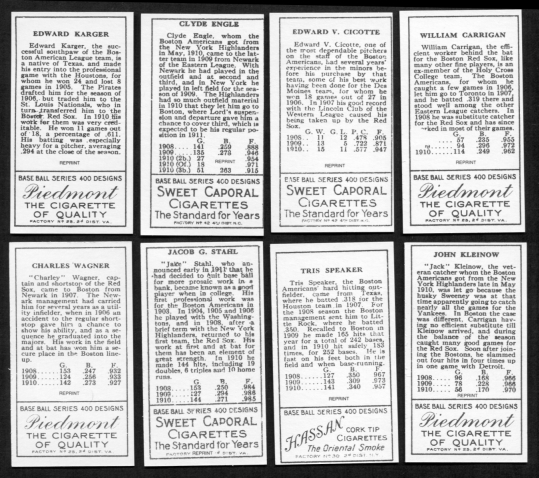 This Boston Red Sox team set includes all of the Red Sox players from the 1911 T205 Gold Border Reprint set. The 1911 T205 Gold Border baseball card set consists of 208 small sized cards that measure 1-5/16" by 2-5/8". The 1911 T205 Gold Border baseball cards are organized alphabetically by player last name. The original T205 cards can cost as much as $150 for a common player in Excellent/Mint condition.
The 1911 Red Sox, in their final season at Huntington Avenue Grounds, finished 4th in the American League with a record of 78-75.

Please note that these cards are reprints and NOT original T205s.

The following players are included in the set:
# 30 Bill Carrigan
# 34 Ed Cicotte
# 60 Clyde Engle
# 100 Ed Karger
# 102 Red Kleinow
# 179 Tris Speaker
# 180 Jake Stahl
# 195 Heinie Wagner