1911 T205 Reprint T205 Gold Border REPRINT Washington Senators Team Set
NM/MT - 8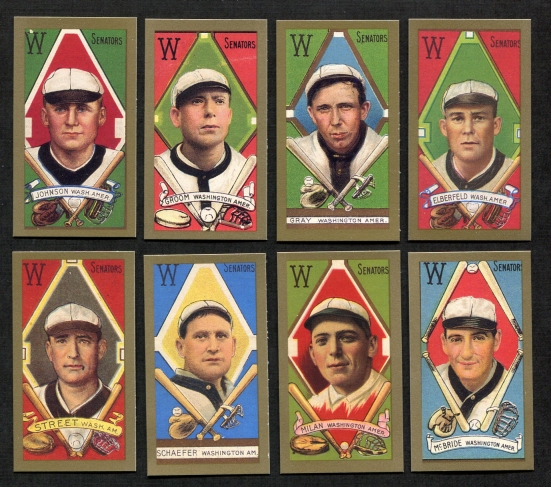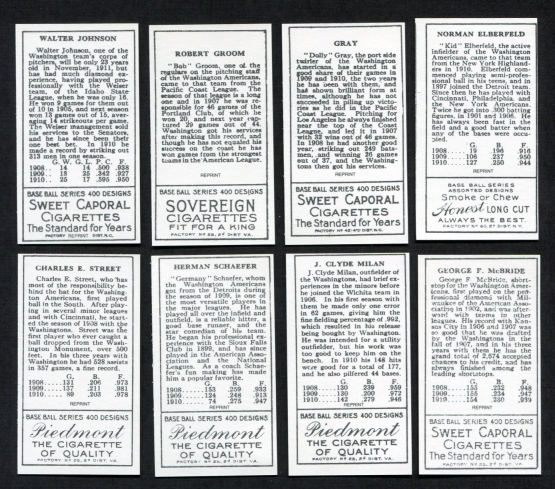 This Washington Senators team set includes all of the Senators players from the 1911 T205 Gold Border Reprint set. The 1911 T205 Gold Border baseball card set consists of 208 small sized cards that measure 1-5/16" by 2-5/8". The 1911 T205 Gold Border baseball cards are organized alphabetically by player last name. The original T205 cards can cost as much as $150 for a common player in Excellent/Mint condition.
The 1911 Senators finished in 7th place in the American League with a record of 64-90.

Please note that these cards are reprints and NOT original T205s.

The following players are included in the set:
# 59 Kid Elberfeld
# 80 Dolly Gray No Stats on Back
# 82 Bob Groom
# 96 Walter Johnson
# 127 George McBride
# 137 Clyde Milan
# 167 Germany Schaefer
# 185 Gabby Street