2014 Topps Heritage Baseball Complete Base Set (#'s 1-425)
NM/MT - 8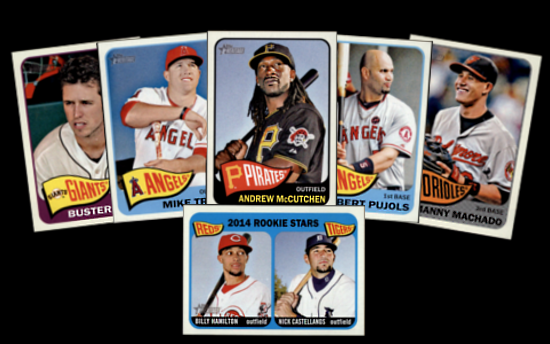 Representative Image
The 2014 Topps Heritage  Base set includes  cards 1-425. The design is based on the classic 1965 Topps set design, mainly featuring tight head shots of players. A lot of the cards portray players without their caps.
The cards are thicker than normal new Topps cards, giving them a nice retro feel. Cards 426-500 have been short-printed to build interest in them as collectibles and raise the price of the issue. These cards are not  included in the base set, however the base set is a great way to get a majority of the cards at a fraction of the price.  
Key Rookie Cards included in this set are:  #49 AL Rookie Stars - Jonathan Schoop / Xander Bogaerts, #116 Cardinals Rookie Stars - Kolten Wong / Audry Perez, #243 Rookie Stars - Nick Castellanos / Billy Hamilton, #308 Mets Rookie Stars - Travis d'Arnaud / Wilmer Flores and #354 Mariners Rookie Stars - James Paxton / Taijuan Walker.
Star player cards included in this set are:  #149 Buster Posey, #150 Manny Machado, #250 Mike Trout, #269 Albert Pujols, #284 David Wright, #300 Clayton Kershaw, #370 Matt Kemp, #395 Brian McCann and #400 Bryce Harper.
Price
$150.00
$135.00 after 10% discount