1977 Topps -79 Toronto Blue Jays Team Lot
EX/MT - 6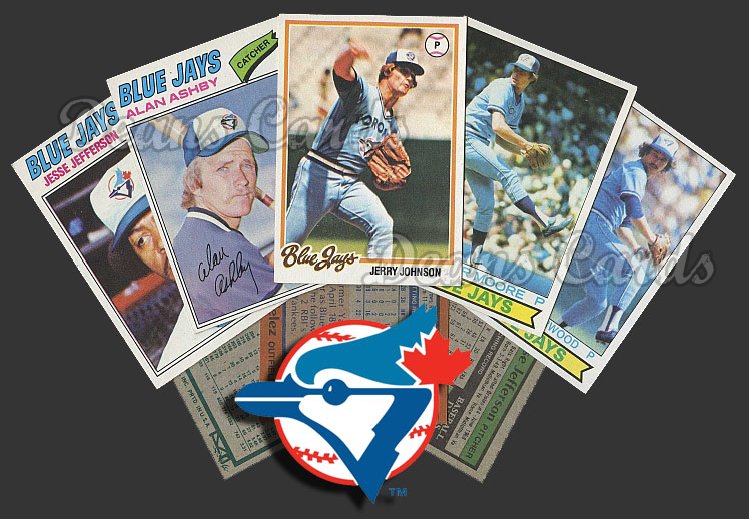 Representative Image
--- $60 Value if Purchased Separately! ---
This 1977-79 Toronto Blue Jays Team Starter Set / Lot contains 30 different late 1970's Topps cards of Toronot Blue Jays players.
This Toronto Blue Jays Team Set will include many of the following players: Bob Bailor, Roy Howell, Al Woods, Otto Velez, Rick Bosetti, John Mayberry, Dave McKay, Rick Cerone, Rico Carty, Luis Gomez, Alan Ashby, Doug Ault, Alfredo Griffin and many more.
This lot will also include many of these top Blue Jays pitchers: Dave Lemanczyk, Jesse Jefferson, Jim Clancy, Tom Underwood, Jerry Garvin, Balor Moore, Tom Murphy, and Dave Stieb.
Team Starter Sets are a great way to buy large quantities of cards at an affordable price. Dean's Cards Starter Sets are priced 25%-50% lower than if you purchased the cards individually. On top of the already discounted prices, our quantity discount still applies!
The condition of the cards will vary between "Very Good" to "Excellent/Mint", for non-collectors, these cards are in "Average" condition. Some cards will show wear on the corners, but are still very collectible and attractive to the eye.
All cards in the Starter Sets are our choice, but there will be a wide variety of different players, with plenty of your favorites. This team starter set makes a great gift for any Toronto Blue Jays fan.
Please note that Starter Sets are the only product we sell that cannot be returned due to the labor involved in building the set.