1975 Topps -79 Cleveland Indians Team Starter Set / Lot - Md
EX/MT - 6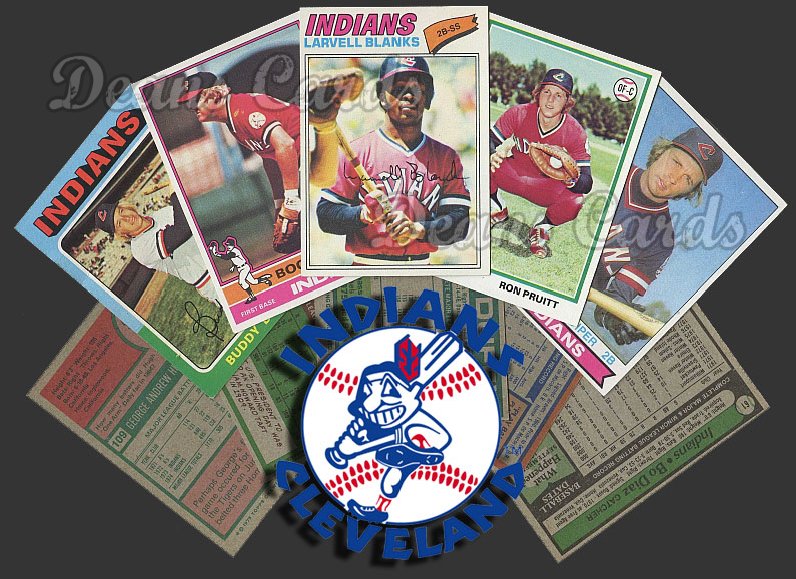 Representative Image
This 1975-79 Cleveland Indians Team Starter Set / Lot contains 50 different late 1970's Topps cards of Cleveland Indians players.
This Cleveland Indians Team Set will include many of the following players: Duane Kuiper, Rick Manning, Buddy Bell, Andre Thornton, Frank Duffy, Rico Carty, Jim Norris, George Hendrick, Tom Veryzer, Larvell Blanks, Paul Dade, John Lowenstein, Ron Pruitt and many more.
This lot will also include many of these top Indians pitchers: Rick Waits, Dennis Eckersley, Jim Bibby, Jim Kern, Rick Wise, Mike Paxton, Wayne Garland, and Pat Dobson.
Team Starter Sets are a great way to buy large quantities of cards at an affordable price. Dean's Cards Starter Sets are priced 25%-50% lower than if you purchased the cards individually. On top of the already discounted prices, our quantity discount still applies!
The condition of the cards will vary between "Very Good" to "Excellent/Mint", for non-collectors, these cards are in "Average" condition. Some cards will show wear on the corners, but are still very collectible and attractive to the eye.
All cards in the Starter Sets are our choice, but there will be a wide variety of different players, with plenty of your favorites. This team starter set makes a great gift for any Cleveland Indians fan.
Please note that Starter Sets are the only product we sell that cannot be returned due to the labor involved in building the set.

Price
$50.00
$47.50 after 5% discount