1935 Goudey Reprint Goudey 4-in-1 Reprint Complete Set
NM/MT - 8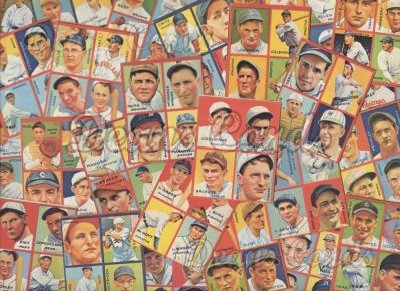 Representative Image
The 1935 Goudey 4-in-1 Baseball Cards are 36 cards with four players from the same team.  The backs of the reprint cards can be arranged to make one of five different large photographs.  The 1935 Goudey Baseball Card set was reprinted in 1985 and are the same size (2 3/8" x 2 7/8") as the original cards.   The original 1935 Goudey baseball cards are color illustrations of the most popular players and are rarely found in Near Mint condition. 
Players featured in this set include: Ruffing, Lazzeri, Dickey, Gehringer, Cochrane, Ruth, Traynor, Ott, and Maranville. The card backs can be arranged to form 1 of 5 puzzles including individual photos of Jimmy Foxx, Mickey Cochrane, Al Simmons, Joe Cronin, or the Cleveland Indians Team photo.

Each original card costs approximately $250 today, while a complete original set in Excellent/Mint condition would cost over $13,000.