1935 Goudey Reprint Goudey 4-in-1 Reprint Complete Set 8 - NM/MT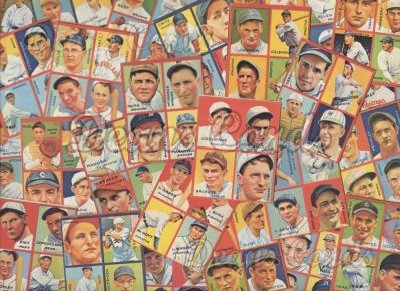 Representative Image
This 1935 Goudey 4-in-1 Reprint Complete Set includes all 36 of the reprinted cards.  The cards have pictures of four players, who are typically on the same team.  The 1935 Goudey 4-in-1 or Puzzle Back cards are the same size (2 3/8 x 2 7/8) as the originals. The main difference is that the puzzles on the backs of the 1935 Goudey 4-in-1 Reprint Cards are green & white, versus the black & white illustrations used on the originals. 
The card backs of the 1935 Goudey 4-in-1 Reprint Set were (wisely) printed with only one possible card back.  The backs reprint cards can be arranged to form 5 different puzzles of: Jimmy Foxx, Mickey Cochrane, Al Simmons, Joe Cronin, or a team photo of the Cleveland Indians.
With each of the 36 cards, featuring 4 players, there are 144 pictures.  Interesting, there are eight players in the set that are on two different cards:Jim Bottomley, Ed Brandt, Mickey Cochrane, Adam Comorosky, Willie Kamm and Gus Mancusco. Som of the main stars players featured in 1935 Goudey 4-in-1 Reprint Set include: Ruffing, Lazzeri, Dickey, Gehringer, Cochrane, Ruth, Dean, Traynor, Ott, and Maranville.  This was Babe Ruth's last season and the only card of him as a Boston Brave.