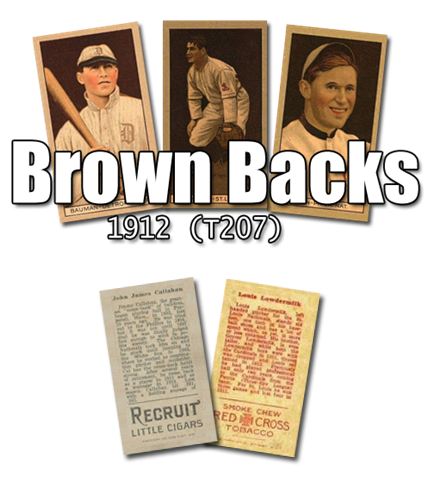 1912 T207 Brown Background Baseball Cards
The T207 "Brown Backgrounds" baseball card set was issued by the American Tobacco Company in 1912. The 200 card baseball set feature a color image of a ballplayer set in front of a dark brown background. The card is surrounded by a white border and the player's name and team name is printed in a separate white panel below the card image. Printed on the back of the card is a short player bio and an advertisement that reads "Recruit Little Cigars."
- 1912 - T207 - Brown Backs
- 200 Cards That Measure 1-1/2" x 2-5/8"
- Common Card Value In "Good": $12
- Set Popularity: Average (5 out of 10)
- Scarcity of Cards: Fairly Common (3)
- Difficulty to Complete Set: Very Difficult (8)
T207 Baseball Card Checklist
# 1 Bert Adams - 1912 Brown Background (T207)
# 2 Eddie Ainsmith - 1912 Brown Background (T207)
# 3 Rafael Almeida - 1912 Brown Background (T207)
# 4 Jimmy Austin Insignia - 1912 Brown Background (T207)
# 5 Jimmy Austin No Insignia - 1912 Brown Background (T207)
# 6 Neal Ball - 1912 Brown Background (T207)
# 7 Eros Barger - 1912 Brown Background (T207)
# 8 Jack Barry - 1912 Brown Background (T207)
# 9 Paddy Bauman - 1912 Brown Background (T207)
# 10 Beals Becker - 1912 Brown Background (T207)
# 11 Chief Bender - 1912 Brown Background (T207)
# 12 Joe Benz - 1912 Brown Background (T207)
# 13 Robert Bescher - 1912 Brown Background (T207)
# 14 Joe Birmingham - 1912 Brown Background (T207)
# 15 Lena Blackburne - 1912 Brown Background (T207)
# 16 Fred Blanding - 1912 Brown Background (T207)
# 17 Bruno Block - 1912 Brown Background (T207)
# 18 Ping Bodie - 1912 Brown Background (T207)
# 19 Hugh Bradley - 1912 Brown Background (T207)
# 20 Roger Bresnahan - 1912 Brown Background (T207)
# 21 Jack Bushelman - 1912 Brown Background (T207)
# 22 Hank Butcher - 1912 Brown Background (T207)
# 23 Robert M. Byrne - 1912 Brown Background (T207)
# 24 Nixey Callahan - 1912 Brown Background (T207)
# 25 Howie Camnitz - 1912 Brown Background (T207)
# 26 Max Carey - 1912 Brown Background (T207)
# 27 Bill Carrigan Correct Back - 1912 Brown Background (T207)
# 28 Bill Carrigan Wagner Back - 1912 Brown Background (T207)
# 29 George Chalmers - 1912 Brown Background (T207)
# 30 Frank Chance - 1912 Brown Background (T207)
# 31 Eddie Cicotte - 1912 Brown Background (T207)
# 32 Tommy Clarke - 1912 Brown Background (T207)
# 33 King Cole - 1912 Brown Background (T207)
# 34 John Collins - 1912 Brown Background (T207)
# 35 Robert Coulson - 1912 Brown Background (T207)
# 36 Tex Covington - 1912 Brown Background (T207)
# 37 Otis Crandall - 1912 Brown Background (T207)
# 38 Bill Cunningham - 1912 Brown Background (T207)
# 39 Dave Danforth - 1912 Brown Background (T207)
# 40 Bert Daniels - 1912 Brown Background (T207)
# 41 Jake Daubert - 1912 Brown Background (T207)
# 42 Harry Davis - 1912 Brown Background (T207)
# 43 Jim Delahanty - 1912 Brown Background (T207)
# 44 Claud Derrick - 1912 Brown Background (T207)
# 45 Art Devlin - 1912 Brown Background (T207)
# 46 Joshua Devore - 1912 Brown Background (T207)
# 47 Mike Donlin - 1912 Brown Background (T207)
# 48 Ed Donnelly - 1912 Brown Background (T207)
# 49 Red Dooin - 1912 Brown Background (T207)
# 50 Tom Downey - 1912 Brown Background (T207)
# 51 Lawrence Doyle - 1912 Brown Background (T207)
# 52 Dellos Drake - 1912 Brown Background (T207)
# 53 Ted Easterly - 1912 Brown Background (T207)
# 54 George Ellis - 1912 Brown Background (T207)
# 55 Clyde Engle - 1912 Brown Background (T207)
# 56 Tex Erwin - 1912 Brown Background (T207)
# 57 Steve Evans - 1912 Brown Background (T207)
# 58 John Ferry - 1912 Brown Background (T207)
# 60 Ray Fisher White Cap - 1912 Brown Background (T207)
# 59 Ray Fisher Blue Cap - 1912 Brown Background (T207)
# 61 Art Fletcher - 1912 Brown Background (T207)
# 62 Jack Fournier - 1912 Brown Background (T207)
# 63 Art Fromme - 1912 Brown Background (T207)
# 64 Del Gainor - 1912 Brown Background (T207)
# 65 Larry Gardner - 1912 Brown Background (T207)
# 66 Lefty George - 1912 Brown Background (T207)
# 67 Roy Golden - 1912 Brown Background (T207)
# 68 Hank Gowdy - 1912 Brown Background (T207)
# 69 Peaches Graham - 1912 Brown Background (T207)
# 70 Jack Graney - 1912 Brown Background (T207)
# 71 Vean Gregg - 1912 Brown Background (T207)
# 72 Casey Hageman - 1912 Brown Background (T207)
# 73 Sea Lion Hall - 1912 Brown Background (T207)
# 74 Ed Hallinan - 1912 Brown Background (T207)
# 75 Earl Hamilton - 1912 Brown Background (T207)
# 76 Robert Harmon - 1912 Brown Background (T207)
# 77 Grover Hartley - 1912 Brown Background (T207)
# 78 Olaf Henriksen - 1912 Brown Background (T207)
# 79 John Henry - 1912 Brown Background (T207)
# 80 Buck Herzog - 1912 Brown Background (T207)
# 81 Bob Higgins - 1912 Brown Background (T207)
# 82 Chester Hoff - 1912 Brown Background (T207)
# 83 Willie Hogan - 1912 Brown Background (T207)
# 84 Harry Hooper - 1912 Brown Background (T207)
# 85 Ben Houser - 1912 Brown Background (T207)
# 86 Ham Hyatt - 1912 Brown Background (T207)
# 87 Walter Johnson - 1912 Brown Background (T207)
# 88 George Kaler (Kahler) - 1912 Brown Background (T207)
# 89 Billy Kelly - 1912 Brown Background (T207)
# 90 Jay Kirke - 1912 Brown Background (T207)
# 91 Johnny Kling - 1912 Brown Background (T207)
# 92 Otto Knabe - 1912 Brown Background (T207)
# 93 Elmer Knetzer - 1912 Brown Background (T207)
# 94 Ed Konetchy - 1912 Brown Background (T207)
# 95 Harry Krause - 1912 Brown Background (T207)
# 96 Walt Kuhn - 1912 Brown Background (T207)
# 97 Joseph Kutina - 1912 Brown Background (T207)
# 98 Frank Lange - 1912 Brown Background (T207)
# 99 Jack Lapp - 1912 Brown Background (T207)
# 100 Arlie Latham - 1912 Brown Background (T207)
# 101 Tommy Leach - 1912 Brown Background (T207)
# 102 Lefty Leifield - 1912 Brown Background (T207)
# 103 Ed Lennox - 1912 Brown Background (T207)
# 104 Duffy Lewis Boston - 1912 Brown Background (T207)
# 105A Irving Lewis Emblem on Sleeve - 1912 Brown Background (T207)
# 105B Irving Lewis No Emblem on Sleeve - 1912 Brown Background (T207)
# 106 Jack Lively - 1912 Brown Background (T207)
# 107 Paddy Livingston A on Shirt - 1912 Brown Background (T207)
# 108 Paddy Livingston Big C on Shirt - 1912 Brown Background (T207)
# 109 Paddy Livingston Little C on Shirt - 1912 Brown Background (T207)
# 110 Bris Lord Philadelphia - 1912 Brown Background (T207)
# 111 Harry Lord Chicago - 1912 Brown Background (T207)
# 112 Louis Lowdermilk - 1912 Brown Background (T207)
# 113 Richard Marquard - 1912 Brown Background (T207)
# 114 Armando Marsans - 1912 Brown Background (T207)
# 115 George McBride - 1912 Brown Background (T207)
# 116 Alex McCarthy - 1912 Brown Background (T207)
# 117 Ed McDonald - 1912 Brown Background (T207)
# 118 John McGraw - 1912 Brown Background (T207)
# 119 Harry McIntire - 1912 Brown Background (T207)
# 120 Matty McIntyre - 1912 Brown Background (T207)
# 121 Bill McKechnie - 1912 Brown Background (T207)
# 122 Larry McLean - 1912 Brown Background (T207)
# 123 Clyde Milan - 1912 Brown Background (T207)
# 125 Dots Miller Pittsburgh - 1912 Brown Background (T207)
# 127 Ward Miller Chicago - 1912 Brown Background (T207)
# 126 Otto Miller Brookyln - 1912 Brown Background (T207)
# 124 Doc Miller Boston - 1912 Brown Background (T207)
# 128 Mike Mitchell Cincinnati - 1912 Brown Background (T207)
# 129 Willie Mitchell Cleveland - 1912 Brown Background (T207)
# 130 George Mogridge - 1912 Brown Background (T207)
# 131 Earl Moore - 1912 Brown Background (T207)
# 132 Pat Moran - 1912 Brown Background (T207)
# 133 Cy Morgan Philadelphia - 1912 Brown Background (T207)
# 134 Ray Morgan Washington - 1912 Brown Background (T207)
# 135 George Moriarty - 1912 Brown Background (T207)
# 136 George Mullin D on Cap - 1912 Brown Background (T207)
# 137 George Mullin No D on Cap - 1912 Brown Background (T207)
# 138 Tom Needham - 1912 Brown Background (T207)
# 139 Red Nelson - 1912 Brown Background (T207)
# 140 Hub Northen - 1912 Brown Background (T207)
# 141 Les Nunamaker - 1912 Brown Background (T207)
# 142 Rebel Oakes - 1912 Brown Background (T207)
# 143 Buck O'Brien - 1912 Brown Background (T207)
# 144 Rube Oldring - 1912 Brown Background (T207)
# 145 Ivy Olson - 1912 Brown Background (T207)
# 146 Martin J. O'Toole - 1912 Brown Background (T207)
# 147 George Paskart (Paskert) - 1912 Brown Background (T207)
# 148 Barney Pelty - 1912 Brown Background (T207)
# 149 Hub Perdue - 1912 Brown Background (T207)
# 150 Rube Peters - 1912 Brown Background (T207)
# 151 Art Phelan - 1912 Brown Background (T207)
# 152 Jack Quinn - 1912 Brown Background (T207)
# 153 Pat Ragan - 1912 Brown Background (T207)
# 154 Rasmussen: Phil NL - 1912 Brown Background (T207)
# 155 Morrie Rath - 1912 Brown Background (T207)
# 156 Ed Reulbach - 1912 Brown Background (T207)
# 157 Nap Rucker - 1912 Brown Background (T207)
# 158 J.B. Ryan - 1912 Brown Background (T207)
# 159 Vic Saier - 1912 Brown Background (T207)
# 160 Doc Scanlon (Scanlan) - 1912 Brown Background (T207)
# 161 Germany Schaefer - 1912 Brown Background (T207)
# 162 Bill Schardt - 1912 Brown Background (T207)
# 163 Frank Schulte - 1912 Brown Background (T207)
# 164 Jim Scott - 1912 Brown Background (T207)
# 165 Hank Severeid - 1912 Brown Background (T207)
# 166 Mike Simon - 1912 Brown Background (T207)
# 168 Wallace Smith St. Louis - 1912 Brown Background (T207)
# 167 Frank Smith Cincinnati - 1912 Brown Background (T207)
# 169 Fred Snodgrass - 1912 Brown Background (T207)
# 170 Tris Speaker - 1912 Brown Background (T207)
# 171 Harry Spratt - 1912 Brown Background (T207)
# 172 Eddie Stack - 1912 Brown Background (T207)
# 173 Oscar Stanage - 1912 Brown Background (T207)
# 174 Bill Steele - 1912 Brown Background (T207)
# 175 Harry Steinfeldt - 1912 Brown Background (T207)
# 176 George Stovall - 1912 Brown Background (T207)
# 177 Gabby Street - 1912 Brown Background (T207)
# 178 Amos Strunk - 1912 Brown Background (T207)
# 179 Billy Sullivan - 1912 Brown Background (T207)
# 180 William Sweeney - 1912 Brown Background (T207)
# 181 Lee Tannehill - 1912 Brown Background (T207)
# 182 Claude Thomas - 1912 Brown Background (T207)
# 183 Joe Tinker - 1912 Brown Background (T207)
# 184 Bert Tooley - 1912 Brown Background (T207)
# 185 Terry Turner - 1912 Brown Background (T207)
# 186 Lefty Tyler - 1912 Brown Background (T207)
# 187 Hippo Vaughn - 1912 Brown Background (T207)
# 188 Heine Wagner Correct Back - 1912 Brown Background (T207)
# 189 Dixie Walker - 1912 Brown Background (T207)
# 190 Bobby Wallace - 1912 Brown Background (T207)
# 191 Jack Warhop - 1912 Brown Background (T207)
# 192 Buck Weaver - 1912 Brown Background (T207)
# 193 Zack Wheat - 1912 Brown Background (T207)
# 194 Doc White - 1912 Brown Background (T207)
# 195 Ernest Wilie - 1912 Brown Background (T207)
# 196 Bob Williams - 1912 Brown Background (T207)
# 197 Art Wilson New York - 1912 Brown Background (T207)
# 198 Chief Wilson Pittsburgh - 1912 Brown Background (T207)
# 199 George Wiltse - 1912 Brown Background (T207)
# 200 Ivey Wingo - 1912 Brown Background (T207)
# 201 Harry Wolverton - 1912 Brown Background (T207)
# 202 Joe Wood - 1912 Brown Background (T207)
# 203 Gene Woodburn - 1912 Brown Background (T207)
# 204 Ralph Works - 1912 Brown Background (T207)
# 205 Steve Yerkes - 1912 Brown Background (T207)
# 206 Rollie Zeider - 1912 Brown Background (T207)