1909 T204 Ramly Baseball Cards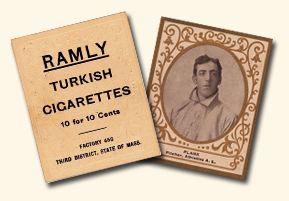 The Ramly T204 baseball card set was produced in 1909 by Mentor Company and distributed in packs of Ramly Turkish Cigarettes. The front of the card features a black and white player portrait inside of an oval shape. Surrounding the oval is an embossed gold border design. There is also a square frame variation to the T204 Ramly set. Printed on the back of the card is an advertisement for Ramly cigarettes which reads "Ramly Turkish Cigarettes 10 for 10 cents Factory 456 Third District, State of Mass." There are also blank back variations and ads for T.T.T. in the T204 set.
- 1909 - T204 - Ramly
- 121 Cards That Measure 2" x 2-1/2"
- Common Card Value in "Good": $75
- Set Popularity: Popular (7 out of 10)
- Scarcity of Cards: Average (5)
- Difficulty to Complete Set: Average (4)
Looking to Buy Ramly Baseball Cards? Click here to see what we have!
Ramly (T204) Checklist
# 1 Whitey Alperman - 1909 Ramly (T204)
# 2 John J. Anderson - 1909 Ramly (T204)
# 3 Jimmy Archer - 1909 Ramly (T204)
# 4 Frank Arrelanes UER - 1909 Ramly (T204)
# 5 Jim Ball - 1909 Ramly (T204)
# 6 Neal Ball - 1909 Ramly (T204)
# 7 Frank Bancroft - 1909 Ramly (T204)
# 8 Johnny Bates - 1909 Ramly (T204)
# 9 Fred Beebe - 1909 Ramly (T204)
# 10 George Bell - 1909 Ramly (T204)
# 11 Chief Bender - 1909 Ramly (T204)
# 12 Walter Blair - 1909 Ramly (T204)
# 13 Cliff Blankenship - 1909 Ramly (T204)
# 14 Frank Bowerman - 1909 Ramly (T204)
# 15 Kitty Bransfield - 1909 Ramly (T204)
# 16 Roger Bresnahan - 1909 Ramly (T204)
# 17 Al Bridwell - 1909 Ramly (T204)
# 18 Mordecai Brown - 1909 Ramly (T204)
# 19 Fred Burchell - 1909 Ramly (T204)
# 20 Jesse Burkett - 1909 Ramly (T204)
# 21 Bobby Byrne UER Byrnes - 1909 Ramly (T204)
# 22 Bill Carrigan - 1909 Ramly (T204)
# 23 Frank Chance - 1909 Ramly (T204)
# 24 Charles Chech - 1909 Ramly (T204)
# 25 Eddie Cicolte - 1909 Ramly (T204)
# 26 Otis Clymer - 1909 Ramly (T204)
# 27 Andrew Coakley - 1909 Ramly (T204)
# 28 Eddie Collins - 1909 Ramly (T204)
# 29 Jimmy Collins - 1909 Ramly (T204)
# 30 Wid Conroy - 1909 Ramly (T204)
# 31 Jack Coombs - 1909 Ramly (T204)
# 32 Doc Crandall - 1909 Ramly (T204)
# 33 Lou Criger - 1909 Ramly (T204)
# 34 Harry Davis - 1909 Ramly (T204)
# 35 Art Devlin - 1909 Ramly (T204)
# 36 Bill Dineen UER - 1909 Ramly (T204)
# 37 Pat Donahue - 1909 Ramly (T204)
# 38 Mike Donlin - 1909 Ramly (T204)
# 39 Bill Donovan - 1909 Ramly (T204)
# 40 Gus Dorner - 1909 Ramly (T204)
# 41 Joe Dunn - 1909 Ramly (T204)
# 42 Kid Elberfield - 1909 Ramly (T204)
# 43 Johnny Evers - 1909 Ramly (T204)
# 44 Bob Ewing - 1909 Ramly (T204)
# 45 George Ferguson - 1909 Ramly (T204)
# 46 Hobe Ferris - 1909 Ramly (T204)
# 47 Jerry Freeman - 1909 Ramly (T204)
# 48 Art Fromme - 1909 Ramly (T204)
# 49 Bob Ganley - 1909 Ramly (T204)
# 50 Doc Gessler - 1909 Ramly (T204)
# 51 Peaches Graham - 1909 Ramly (T204)
# 52 Clark Griffith - 1909 Ramly (T204)
# 53 Roy Hartzell - 1909 Ramly (T204)
# 54 Charlie Hemphill - 1909 Ramly (T204)
# 55 Dick Hoblitzell UER - 1909 Ramly (T204)
# 56 George Howard - 1909 Ramly (T204)
# 57 Harry Howell - 1909 Ramly (T204)
# 58 Miller Huggins - 1909 Ramly (T204)
# 59 John Hummel - 1909 Ramly (T204)
# 60 Walter Johnson - 1909 Ramly (T204)
# 61 Tom Jones - 1909 Ramly (T204)
# 62 Mike Kahoe - 1909 Ramly (T204)
# 63 Ed Kargar UER - 1909 Ramly (T204)
# 64 Willie Keeler - 1909 Ramly (T204)
# 67 Ed Konetchey (Konetchy) - 1909 Ramly (T204)
# 65 Red Kleinon UER - 1909 Ramly (T204)
# 66 John Knight - 1909 Ramly (T204)
# 68 Vive Lindaman - 1909 Ramly (T204)
# 69 Hans Loebert UER - 1909 Ramly (T204)
# 70 Harry Lord - 1909 Ramly (T204)
# 71 Harry Lumley - 1909 Ramly (T204)
# 72 Ernie Lush - 1909 Ramly (T204)
# 73 Rube Manning - 1909 Ramly (T204)
# 74 Jimmy McAleer - 1909 Ramly (T204)
# 75 Amby McConnell - 1909 Ramly (T204)
# 76 Moose McCormick - 1909 Ramly (T204)
# 77 Matty McIntyre - 1909 Ramly (T204)
# 78 Larry McLean - 1909 Ramly (T204)
# 79 Fred Merkle - 1909 Ramly (T204)
# 80 Clyde Milan - 1909 Ramly (T204)
# 81 Mike Mitchell - 1909 Ramly (T204)
# 82 Pat Moran - 1909 Ramly (T204)
# 83 Cy Morgan - 1909 Ramly (T204)
# 84 Tim Murname UER - 1909 Ramly (T204)
# 85 Danny Murphy - 1909 Ramly (T204)
# 86 Red Murray - 1909 Ramly (T204)
# 87 Doc Newton - 1909 Ramly (T204)
# 88 Simon Nichols UER - 1909 Ramly (T204)
# 89 Harry Niles - 1909 Ramly (T204)
# 90 Bill O'Hare UER - 1909 Ramly (T204)
# 91 Charley O'Leary - 1909 Ramly (T204)
# 92 Dode Paskert - 1909 Ramly (T204)
# 93 Barney Pelty - 1909 Ramly (T204)
# 94 Jack Pfeister UER - 1909 Ramly (T204)
# 95 Eddie Plank - 1909 Ramly (T204)
# 96 Jack Powell - 1909 Ramly (T204)
# 97 Bugs Raymond - 1909 Ramly (T204)
# 98 Tom Reilly - 1909 Ramly (T204)
# 99 Claude Ritchey - 1909 Ramly (T204)
# 100 Nap Rucker - 1909 Ramly (T204)
# 101 Ed Ruelbach UER - 1909 Ramly (T204)
# 102 Slim Sallee - 1909 Ramly (T204)
# 103 Germany Schaefer - 1909 Ramly (T204)
# 104 Jimmy Schekard UER - 1909 Ramly (T204)
# 105 Admiral Schlei - 1909 Ramly (T204)
# 106 Wildfire Schulte - 1909 Ramly (T204)
# 107 Jimmy Sebring - 1909 Ramly (T204)
# 108 Bill Shipke - 1909 Ramly (T204)
# 109 Charlie Smith - 1909 Ramly (T204)
# 110 Tubby Spencer - 1909 Ramly (T204)
# 111 Jake Stahl - 1909 Ramly (T204)
# 113 Harry Stienfeldt sic Steinfeldt - 1909 Ramly (T204)
# 112 Jim Stephens - 1909 Ramly (T204)
# 114 Gabby Street - 1909 Ramly (T204)
# 115 Bill Sweeney - 1909 Ramly (T204)
# 116 Fred Tenney - 1909 Ramly (T204)
# 117 Ira Thomas - 1909 Ramly (T204)
# 118 Joe Tinker - 1909 Ramly (T204)
# 119 Bob Unglane UER - 1909 Ramly (T204)
# 120 Heinie Wagner - 1909 Ramly (T204)
# 121 Bobby Wallace - 1909 Ramly (T204)