T202 Hassan Triple Folders Baseball Cards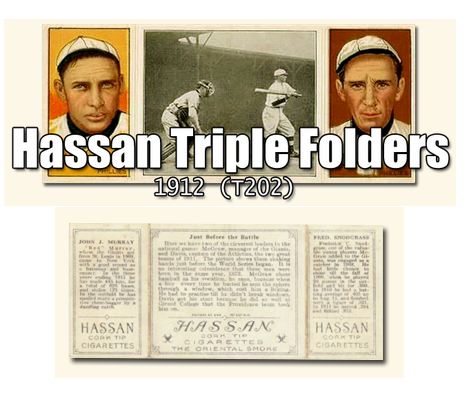 The T202 Hassan Triple Folders feature two color player portraits separated by a large black and white photo. The T202 Tobacco Card set contain 76 different center panel pictures; 137 end panel pictures, many of which were repeated. In the entire T202 baseball card set, 33 different player combinations were repeated. Each card is separated by a white border and the back of each panel of the card features "Hassan Cork Tip Cigarettes."
- 1912 - T202 - Hassen Triple Folders
- 132 Cards That Measure 2-1/4" x 5-1/2"
- Common Card Value in "Good": $50
- Set Popularity: Popular (7 out of 10)
- Scarcity of Cards: Fairly Common (3)
- Difficulty to Complete Set: Average (4)
Hassen Triple Folders T202 Checklist
# 1 A Close Play at Home Plate / Bobby Wallace / Frank LaPorte - 1912 Hassan Triple Folders (T202)
# 2 A Close Play at Home Plate / Bobby Wallace / Barney Pelty - 1912 Hassan Triple Folders (T202)
# 3 A Desperate Slide for Third / Charley O'Leary / Ty Cobb - 1912 Hassan Triple Folders (T202)
# 4 A Great Batsman / Bill Bergen / Cy Barger - 1912 Hassan Triple Folders (T202)
# 5 A Great Batsman / Nap Rucker / Bill Bergen - 1912 Hassan Triple Folders (T202)
# 7 Ambrose McConnell at Bat / Walter Blair / Jack Quinn - 1912 Hassan Triple Folders (T202)
# 6 A Wide Throw Saves Crawford / George Mullin / Oscar Stanage - 1912 Hassan Triple Folders (T202)
# 8 Baker Gets His Man / Eddie Collins / Frank Baker - 1912 Hassan Triple Folders (T202)
# 9 Birmingham Gets to Third / Walter Johnson / Gabby Street - 1912 Hassan Triple Folders (T202)
# 10 Birmingham's Home Run / Doc Birmingham / Terry Turner - 1912 Hassan Triple Folders (T202)
# 11 Bush Just Misses Austin / Pat Moran / Sherry Magee - 1912 Hassan Triple Folders (T202)
# 12 Carrigan Blocks His Man / Harry Gaspar / Larry McLean - 1912 Hassan Triple Folders (T202)
# 13 Carrigan Blocks His Man / Heinie Wagner / Bill Carrigan - 1912 Hassan Triple Folders (T202)
# 14 Catching Him Napping / Rebel Oakes / Roger Bresnahan - 1912 Hassan Triple Folders (T202)
# 15 Caught Asleep Off First / Roger Bresnahan / Robert Harmon - 1912 Hassan Triple Folders (T202)
# 16 Chance Beats Out a Hit / Frank Chance / Bill Foxen - 1912 Hassan Triple Folders (T202)
# 17 Chance Beats Out a Hit / Harry McIntire / Jimmy Archer - 1912 Hassan Triple Folders (T202)
# 18 Chance Beats Out a Hit / Orval Overall / Jimmy Archer - 1912 Hassan Triple Folders (T202)
# 19 Chance Beats Out a Hit / John Rowan / Jimmy Archer - 1912 Hassan Triple Folders (T202)
# 20 Chance Beats Out a Hit / David Shean / Frank Chance - 1912 Hassan Triple Folders (T202)
# 21 Chase Dives into Third / Hal Chase / Harry Wolter - 1912 Hassan Triple Folders (T202)
# 22 Chase Dives into Third / George Gibson / Fred Clarke - 1912 Hassan Triple Folders (T202)
# 23 Chase Dives into Third / Deacon Phillippe / George Gibson - 1912 Hassan Triple Folders (T202)
# 24 Chase Gets Ball Too Late / Dick Egan / Mike Mitchell - 1912 Hassan Triple Folders (T202)
# 25 Chase Gets Ball Too Late / Harry Wolter / Hal Chase - 1912 Hassan Triple Folders (T202)
# 26 Chase Guarding First / Hal Chase / Harry Wolter - 1912 Hassan Triple Folders (T202)
# 27 Chase Guarding First / George Gibson / Fred Clarke - 1912 Hassan Triple Folders (T202)
# 28 Chase Guarding First / Lefty Leifield / George Gibson - 1912 Hassan Triple Folders (T202)
# 29 Chase Ready for Squeeze Play / Dode Paskert / Sherry Magee - 1912 Hassan Triple Folders (T202)
# 30 Chase Safe at Third / Jack Barry / Frank Baker - 1912 Hassan Triple Folders (T202)
# 31 Chief Bender Waiting For a Good One / Chief Bender / Ira Thomas - 1912 Hassan Triple Folders (T202)
# 32 Clarke Hikes for Home / Al Bridwell / Johnny Kling - 1912 Hassan Triple Folders (T202)
# 33 Close at First / Neal Ball / George Stovall - 1912 Hassan Triple Folders (T202)
# 35 Close at the Plate / Ed Walsh / Fred Payne - 1912 Hassan Triple Folders (T202)
# 34 Close at the Plate / Fred Payne / Doc White - 1912 Hassan Triple Folders (T202)
# 37 Close at Third / Joe Wood / Tris Speaker - 1912 Hassan Triple Folders (T202)
# 36 Close at Third / Bill Carrigan / Heinie Wagner - 1912 Hassan Triple Folders (T202)
# 38 Collins Easily Safe / Bobby Byrne / Fred Clarke - 1912 Hassan Triple Folders (T202)
# 39 Collins Easily Safe / Eddie Collins / Frank Baker - 1912 Hassan Triple Folders (T202)
# 40 Collins Easily Safe / Eddie Collins / Danny Murphy - 1912 Hassan Triple Folders (T202)
# 41 Crawford About to Smash One / Oscar Stanage / Ed Summers - 1912 Hassan Triple Folders (T202)
# 42 Cree Rolls Home / Jake Daubert / John Hummell - 1912 Hassan Triple Folders (T202)
# 43 Davy Jones Great Slide / Jim Delahanty / Tom Jones - 1912 Hassan Triple Folders (T202)
# 44 Devlin Gets His Man / Art Devlin (Giants) / Christy Mathewson - 1912 Hassan Triple Folders (T202)
# 45 Devlin Gets His Man / Art Devlin (Rustlers) / Christy Mathewson - 1912 Hassan Triple Folders (T202)
# 46 Devlin Gets His Man / Art Fletcher / Christy Mathewson - 1912 Hassan Triple Folders (T202)
# 47 Devlin Gets His Man / Chief Meyers / Christy Mathewson - 1912 Hassan Triple Folders (T202)
# 48 Donlin Out at First / Howie Camnitz / George Gibson - 1912 Hassan Triple Folders (T202)
# 50 Donlin Out at First / Larry Doyle / Fred Merkle - 1912 Hassan Triple Folders (T202)
# 52 Donlin Out at First / Tommy Leach / Chief Wilson - 1912 Hassan Triple Folders (T202)
# 49 Donlin Out at First / Red Dooin / Sherry Magee - 1912 Hassan Triple Folders (T202)
# 51 Donlin Out at First / George Gibson / Deacon Phillippe - 1912 Hassan Triple Folders (T202)
# 53 Dooin Gets His Man / Red Dooin / Mickey Doolan - 1912 Hassan Triple Folders (T202)
# 54 Dooin Gets His Man / Red Dooin / Hans Lobert - 1912 Hassan Triple Folders (T202)
# 55 Dooin Gets His Man / Red Dooin / John Titus - 1912 Hassan Triple Folders (T202)
# 56 Easy for Larry / Larry Doyle / Fred Merkle - 1912 Hassan Triple Folders (T202)
# 57 Elberfeld Beats the Throw / Clyde Milan / Kid Elberfeld - 1912 Hassan Triple Folders (T202)
# 58 Elberfeld Gets His Man / Clyde Milan / Kid Elberfeld - 1912 Hassan Triple Folders (T202)
# 59 Engle in a Close Play / Tris Speaker / Hack Engle - 1912 Hassan Triple Folders (T202)
# 60 Evers Makes a Safe Slide / Jimmy Archer / Johnny Evers - 1912 Hassan Triple Folders (T202)
# 63 Evers Makes a Safe Slide / Frank Chance / Johnny Evers - 1912 Hassan Triple Folders (T202)
# 61 Evers Makes a Safe Slide / Jimmy Archer / Orval Overall - 1912 Hassan Triple Folders (T202)
# 62 Evers Makes a Safe Slide / Jimmy Archer / Ed Reulbach - 1912 Hassan Triple Folders (T202)
# 64 Evers Makes a Safe Slide / Joe Tinker / Frank Chance - 1912 Hassan Triple Folders (T202)
# 65 Fast Work at Third / Charley O'Leary / Ty Cobb - 1912 Hassan Triple Folders (T202)
# 67 Ford Putting Over a Spitter / Russ Ford / Hippo Vaughn - 1912 Hassan Triple Folders (T202)
# 66 Ford Putting Over a Spitter / Russ Ford / Jeff Sweeney - 1912 Hassan Triple Folders (T202)
# 68 Good Play at Third / George Moriarty / Ty Cobb - 1912 Hassan Triple Folders (T202)
# 69 Grant Gets His Man / Eddie Grant / Doc Hoblitzel - 1912 Hassan Triple Folders (T202)
# 70 Hal Chase Too Late / Ambrose McConnell / Matty McIntyre - 1912 Hassan Triple Folders (T202)
# 71 Hal Chase Too Late / Larry McLean / George Suggs - 1912 Hassan Triple Folders (T202)
# 72 Harry Lord at Third: / Ed Lennox / Joe Tinker - 1912 Hassan Triple Folders (T202)
# 74 Hartzell Covering Third / Bill Dahlen / Doc Scanlon - 1912 Hassan Triple Folders (T202)
# 73 Hartsel Strikes Out / Dolly Gray / Bob Groom - 1912 Hassan Triple Folders (T202)
# 75 Held at Third / Harry Lord / Jesse Tannehill - 1912 Hassan Triple Folders (T202)
# 76 Jake Stahl Guarding First / Eddie Cicotte / Jake Stahl - 1912 Hassan Triple Folders (T202)
# 77 Jim Delahanty at Bat / Jim Delahanty / Davy Jones - 1912 Hassan Triple Folders (T202)
# 78 Just Before the Battle / Red Ames / Chief Meyers - 1912 Hassan Triple Folders (T202)
# 80 Just Before the Battle / Roger Bresnahan / John McGraw - 1912 Hassan Triple Folders (T202)
# 81 Just Before the Battle / Doc Crandall / Chief Meyers - 1912 Hassan Triple Folders (T202)
# 79 Just Before the Battle / Beals Becker / Josh Devore - 1912 Hassan Triple Folders (T202)
# 82 Just Before the Battle / Art Fletcher / Christy Mathewson - 1912 Hassan Triple Folders (T202)
# 83 Just Before the Battle / Rube Marquard / Chief Meyers - 1912 Hassan Triple Folders (T202)
# 84 Just Before the Battle / John McGraw / Hugh Jennings - 1912 Hassan Triple Folders (T202)
# 85 Just Before the Battle / Chief Meyers / Christy Mathewson - 1912 Hassan Triple Folders (T202)
# 87 Just Before the Battle / Red Murray / Fred Snodgrass - 1912 Hassan Triple Folders (T202)
# 86 Just Before the Battle / Chief Meyers / Hook Wiltse - 1912 Hassan Triple Folders (T202)
# 88 Knight Catches a Runner / Jack Knight / Walter Johnson - 1912 Hassan Triple Folders (T202)
# 89 Lobert Almost Caught / Al Bridwell / Johnny Kling - 1912 Hassan Triple Folders (T202)
# 91 Lobert Almost Caught / Johnny Kling / Cy Young - 1912 Hassan Triple Folders (T202)
# 92 Lobert Almost Caught / Al Mattern / Johnny Kling - 1912 Hassan Triple Folders (T202)
# 90 Lobert Almost Caught / Johnny Kling / Harry Steinfeldt - 1912 Hassan Triple Folders (T202)
# 93 Lobert Gets Tenney / Red Dooin / Hans Lobert - 1912 Hassan Triple Folders (T202)
# 94 Lord Catches His Man / Harry Lord / Lee Tannehill - 1912 Hassan Triple Folders (T202)
# 95 McConnell Caught / Tom Needham / Lew Richie - 1912 Hassan Triple Folders (T202)
# 96 McIntyre at Bat / Ambrose McConnell / Matty McIntrye - 1912 Hassan Triple Folders (T202)
# 97 Moriarty Spiked / Oscar Stanage / Ed Willett - 1912 Hassan Triple Folders (T202)
# 98 Nearly Caught / Johnny Bates / Bob Bescher - 1912 Hassan Triple Folders (T202)
# 99 Oldring Almost Home / Harry Lord / Rube Oldring - 1912 Hassan Triple Folders (T202)
# 100 Schaefer on First / George McBride / Clyde Milan - 1912 Hassan Triple Folders (T202)
# 101 Schaefer Steals Second / George McBride / Clark Griffith - 1912 Hassan Triple Folders (T202)
# 102 Scoring from Second / Harry Lord / Rube Oldring - 1912 Hassan Triple Folders (T202)
# 103 Scrambling Back to First / Cy Barger / Bill Bergen - 1912 Hassan Triple Folders (T202)
# 104 Scrambling Back to First / Hal Chase / Harry Wolter - 1912 Hassan Triple Folders (T202)
# 105 Speaker Almost Caught / Dots Miller / Fred Clarke - 1912 Hassan Triple Folders (T202)
# 106 Speaker Rounding Third / Joe Wood / Tris Speaker - 1912 Hassan Triple Folders (T202)
# 107 Speaker Scores / Tris Speaker / Hack Engle - 1912 Hassan Triple Folders (T202)
# 108 Stahl Safe / Jimmy Austin / George Stovall - 1912 Hassan Triple Folders (T202)
# 109 Stone About to Swing / Wildfire Schulte / Jimmy Sheckard - 1912 Hassan Triple Folders (T202)
# 110 Sullivan Puts Up a High One / Steve Evans / Miller Huggins - 1912 Hassan Triple Folders (T202)
# 111 Sullivan Puts up a High One / Dolly Gray / Bob Groom - 1912 Hassan Triple Folders (T202)
# 113 Sweeney Gets Stahl / Russ Ford / Hippo Vaughn - 1912 Hassan Triple Folders (T202)
# 112 Sweeney Gets Stahl / / Russ FordJeff Sweeney - 1912 Hassan Triple Folders (T202)
# 114 Tenney Lands Safely / Arlie Latham / Bugs Raymond - 1912 Hassan Triple Folders (T202)
# 115 The Athletic Infield / Jack Barry / Frank Baker - 1912 Hassan Triple Folders (T202)
# 116 The Athletic Infield / Mordecai Brown / Peaches Graham - 1912 Hassan Triple Folders (T202)
# 117 The Athletic Infield / Arnold Hauser / Ed Konetchy - 1912 Hassan Triple Folders (T202)
# 118 The Athletic Infield / Harry Krause / Ira Thomas - 1912 Hassan Triple Folders (T202)
# 119 The Pinch Hitter / Dick Egan / Doc Hoblitzel - 1912 Hassan Triple Folders (T202)
# 120 The Scissors Slide / Doc Birmingham / Terry Turner - 1912 Hassan Triple Folders (T202)
# 121 Tom Jones at Bat / Art Fromme / Larry McLean - 1912 Hassan Triple Folders (T202)
# 122 Tom Jones at Bat / Harry Gaspar / Larry McLean - 1912 Hassan Triple Folders (T202)
# 123 Too Late For Devlin / Red Ames / Chief Meyers - 1912 Hassan Triple Folders (T202)
# 124 Too Late For Devlin / Doc Crandall / Chief Meyers - 1912 Hassan Triple Folders (T202)
# 125 Too Late For Devlin / Art Devlin (Giants) / Christy Mathewson - 1912 Hassan Triple Folders (T202)
# 126 Too Late For Devlin / Art Devlin (Rustlers) / Christy Mathewson - 1912 Hassan Triple Folders (T202)
# 127 Too Late For Devlin / Rube Marquard / Chief Meyers - 1912 Hassan Triple Folders (T202)
# 128 Too Late For Devlin / Chief Meyers / Hooks Wiltse - 1912 Hassan Triple Folders (T202)
# 129 Ty Cobb Steals Third / Hughie Jennings MG / Ty Cobb - 1912 Hassan Triple Folders (T202)
# 130 Ty Cobb Steals Third / George Moriarty / Ty Cobb - 1912 Hassan Triple Folders (T202)
# 131 Ty Cobb Steals Third / George Stovall / Jimmy Austin - 1912 Hassan Triple Folders (T202)
# 132 Wheat Strikes Out / Bill Dahlen / Zach Wheat - 1912 Hassan Triple Folders (T202)