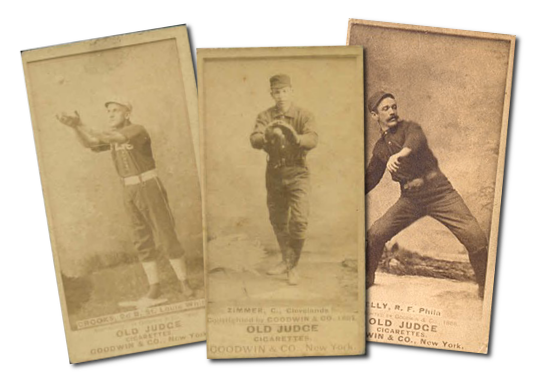 The 1887 Old Judge baseball card set consists of somewhere around 500 unnumbered cards, that measure approximately 1-7/16" by 2-1/2".  Also known as N172 cards, they were included inside packs of Old Judge Cigarettes between 1887 and 1890, and can be easily recognized by "Goodwin & Co. New York" on the base of each card.

The "Browns Champions" cards from the N172 set refer to the 13 players from the 1886 St. Louis Browns and is popular with collectors due to the subject matter and attractive pictures.  The harder Old Judge baseball cards to find are the "Spotted Tie" cards, which show the players, from the 1887 New York Mets, wearing the same polka dot tie.
The N172 Old Judge Baseball Card Set contains 25 hall-of-famers, including: Cap Anson, Jacob Beckley, Dan Brouthers, Charles Comiskey, Ed Delehanty, Hugh Duffy, Buck Ewing, Clark Griffith, Billy Hamilton, Mike Kelly, Connie Mack, Kid Nichols, Wilbert Robinson & Harry Wright.
CLICK HERE if you want to sell your 1887-90 Old Judge N172 cards.