What you need to know about selling a Vintage Sports Card Collection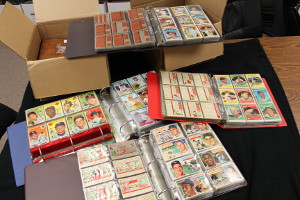 • Dean's Cards buys over 500 collections of old baseball cards a year and pays "top dollar" for collections.
• The first step in selling a collection is to complete our simple form below. Please give us a general idea of how many cards you have and from what years. We check our e-mails throughout the day and will answer you back within a few hours.  We can then send you all kinds of information on how we buy cards and what we pay.
• If you call our office, we will still need you to fill out the form as the first step. Once we trade basic information and qualify the collection, Dean or Elana will be glad to speak to you on the phone - if need be.
• Most people are shocked to learn that almost all of the sports cards issued after 1980 have such a low value that they are rarely worth the postage required to mail them.
Click on Our Index of Articles to Help You Sell Your Collection:
Determining which vintage cards have value
or