Dean's Cards Discounts and 100% Satisfaction Guarantee
Our Everyday Discount:
1)    Determined by the dollar amount of an order.
2)    Starts when an order reaches $50.
3)    Applied upon checkout.
4)    Calculated before Taxes or Shipping.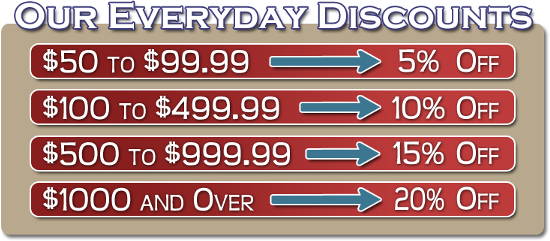 As the dollar amount (or volume) of your order increases, so does the percentage of your discount.  Volume discounts begin at a 5% savings, when your order reaches $50.  The maximum discount is 20% when the invoice amount reaches $1000.  
You always get Dean's best price
With our discount, you can rest assured that you are getting our best prices.  You also get the benefit of knowing that we do not give any other discounts, to anyone, on any product - under any circumstance.  Dean's Cards was founded in 2001 and, to date we have never made an exception to this policy.  
The reason for this policy is simple: Our customers know that they are getting our best price, so they know that they do not have to contact us to negotiate on every order.  This is all part of making buying from Dean's Cards fast, easy and fun.  From our perspective, with the amount of business that we do on a daily basis, we would be overwhelmed by the number of inquiries.
Dean's Cards 100% Money Back Satisfaction Guarantee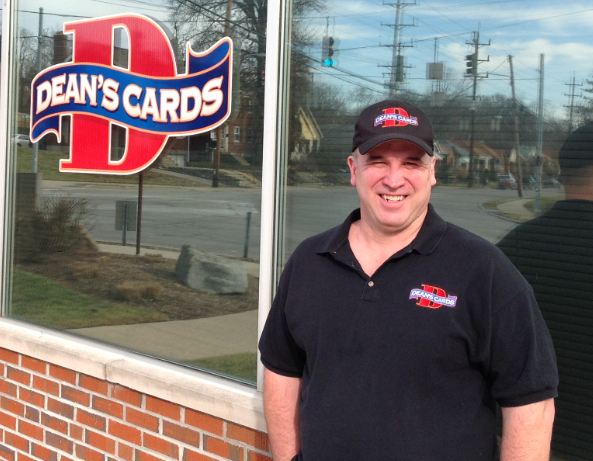 Dean's Cards works hard to earn the trust and respect of every customer. When it comes to buying vintage sports cards and magazines, we know that condition is critical. We would much rather "under grade" a card than "over grade" it. For that reason, we tend to grade the cards we sell more conservatively than most, but judging a card's condition can sometimes be subjective, so we offer a 100% Money Back Satisfaction Guarantee on all purchases.
Reasons to buy from Dean's Cards:
1. The Largest Online Vintage Card Inventory.
When it comes to vintage card inventory, size definitely matters. Dean's Cards has the largest online selection of cards and magazines.
2. Buy all your cards from one source.
There are sites that allow hundreds of dealers to list the cards that they have to sell. The problem is that if you need to purchase fifty cards, you will probably be getting cards from three dozen different dealers with varying grading standards. You also have to pay three dozen different shipping charges. At Dean's Cards you receive consistent grading, one low shipping charge, and a great customer service team that you can call on the phone if you have questions.
3. Actual Scans of the vintage cards.
Nearly all of our vintage cards have a scan of the front and back of the card, which can be enlarged to see every detail of the item.
4. Tough Card Grading Standards.  
Dean's Cards grades on par with the professional grading companies.  Please visit our
How We Grade Vintage Cards
page is see further detail.
5.  100% Money Back Satisfaction Guarantee.
 Just contact us within ten days of the purchase date and we will refund your money or replace the card.  The only exception to this policy are some of the
Near Complete Sets, Starter Sets
and
Team Starter Sets
because those products are "built to order".  Because of the labor cost involved, these sets can not be returned. By Dean Hanley