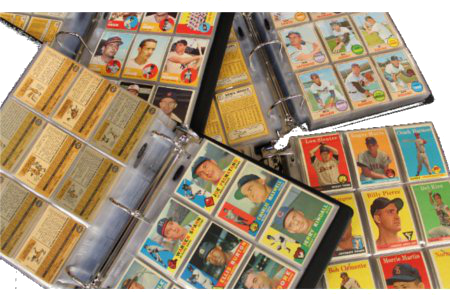 Dean's Cards offers the best selection of vintage complete sets in the hobby, with thousands in stock.  Our goal is have multiple grades of every major, post-WW2 set in stock, at all times.  Huge front and back scans of each card are provided - as well as- detailed set statistics, are provided for your inspection.
Dean's Cards builds most of our vintage complete sets with a software that we developed.  With this technology, the best cards for each set are selected, from our million card inventory, based on grade and price.  If a card in a sells elsewhere, it is immediately replaced.  Please see the set description for its average weighted and unweighted grades,as well as the front and back scans for scans of every card in the set.
We offer a 100% Satisfaction Guarantee on all sets.. Dean's famous saying regarding on complete vintage sets is, "Please just try us once.  If you do, you will never buy a complete set from anyone else again."   When it comes to conservative grading, price, and overall quality of a complete baseball or football card set, we have not seen another dealer who can meet these standards.
Baseball Card Complete Sets
Football Card Complete Sets
Hockey Card Complete Sets
Non-Sports Trading Card Complete Sets