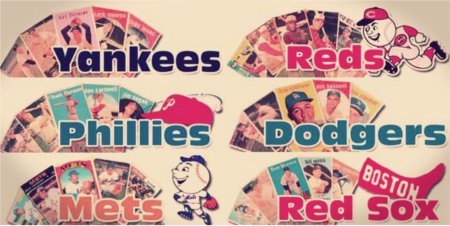 Dean's Cards features the best selection of Team Sets of vintage baseball cards and football cards in the hobby. A Team Set will contain the cards featuring all or most of the players on that particular team.  It may also include other special cards issued for players on that team, including all-star, multi-player, league leaders and/or post-season highlight cards.  
Extremely expensive cards, such as a super star's rookie card or a couple scarce "high-numbered" cards, are not usually considered as part of a standard team set.  These "high dollar" cards will sometimes increase the price of a team set by 5 or even 10 times of the team set without that particular card, making the team set cost prohibitive.  These cards can be purchased separately.
We also offer Near Complete Team Sets, which exclude many of the higher priced cards and are ideal for the collector on a budget.
American League Baseball Team Sets
National League Baseball Team Sets
American Football Conference Team Sets
National Football Conference Team Sets
National Basketball Association Team Sets
American Basketball Association Team Sets
National Hockey League Team Sets
World Hockey Association Team Sets