How (and Where) to Sell Your Baseball Cards
Looking to sell your baseball cards?  Dean's Cards buys hundreds of vintage baseball card, and other various sports card, collections each year. Every week we are contacted by people who ask us, "How do I sell my baseball cards?"  Dean will be glad provide you information and help "part the fog" and better understand your options when addressing the daunting task of how to sell baseball cards.
A few Quick Facts on Where and How to Sell Baseball Cards:
Dean's Cards buys hundreds of vintage baseball card collections each year. Click to read testimonials from people who sold their baseball cards to us.

Dean's Cards buys and sells more baseball cards than anyone else in the world. The reason is very simple -

we pay more

.
The first step in selling us your baseball card collection is to complete our simple form.
All inquiries are answered within one business day. Please give us a general idea of how many baseball cards you have and from what years. We check our e-mails throughout the day and will answer you back within a few hours. We will then send you more detailed information on how we buy baseball cards and what we pay.
Once we get an idea as to what type of cards you are looking to sell, we will send you some helpful information on how the process works and what we pay. Even when you call our office to sell your baseball cards, please fill out the form as the first step. Dean or a member of his buying team will be glad to speak to you on the phone, and answer any questions that you may have concerning our buying process.
Most people who want to sell their baseball cards are shocked to learn that most cards issued after 1980 have little or no resale value.
You can count on Dean's Cards to offer you our best price upfront when we bid on your sports card collection. We will do everything that we can to eliminate the hassles, confusion and stress of selling a baseball card collection.  We make our top offer from the start, so that everyone knows they are getting our best price.  
By Dean Hanley
We are only buying vintage cards from 1975 and older.*
*We also purchase Complete Sets issued between 1976 and 1985
We can NOT purchase "loose' cards made after 1975, unless they are in complete sets.
Baseball Cards that Dean's Cards can buy:
Pre-1976 Sports Cards & Non-Sport Cards
Pre-1986 Complete Sets
Pre-1976 Graded Cards (PSA, Beckett, SGC)
The reason that we ask people to fill out the form is to get an idea of what cards they have and try to verify that the collection has enough value to send. The last thing that we want to do is to waste your time and postage! Unfortunately most cards issued after 1980 do not have enough value to send. There were just way too many made.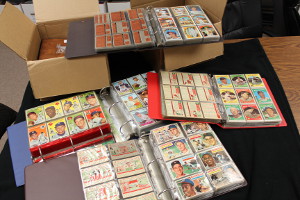 We buy hundreds of collections through the mail each year.
The Four Eras of Baseball Cards:
Baseball cards have different values, depending on who is on the card, the cards condition and when the card was issued. Here is some useful information on:
How do I Sell My Baseball Cards FAQs:
We buy just about any pre-1970 sports or non-sports cards. Click below for more information if you want to:
Dean's Cards Most Wanted
If you have any of the following baseball cards hiding in the closet, or tucked away in the attic, you can sell them for top dollar for your cards. Here are a few examples what we are looking to buy:
Pre-War Baseball Cards - especially T-Cards or R-Cards
Any Mickey Mantle, Babe Ruth, Lou Gehrig, Honus Wagner or Ty Cobb Baseball Card.
Complete Baseball Sets from 1909-1979.
We look forward to receiving your inquiry and greatly appreciate the opportunity to bid on your vintage sports card collection!
By Dean Hanley