Should I Get My Baseball Cards Graded by PSA?
Having Your Sports Cards Professionally Graded
Over the last few years, the rise in popularity of trading cards has increased the demand for professionally graded cards. Dean's Cards was founded in 2002, and since then we have submitted tens-of-thousands of cards to various grading companies. We have also acquired more than that number from both private collections and online auctions. The goal of this article is to share some of my knowledge and experience on having cards professionally graded and to help you decide which cards make sense for you to submit.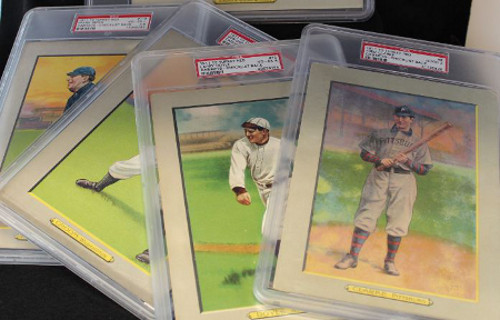 Some people think that it is always a good decision to have cards professionally graded by PSA. The truth is that the value of the vast majority of cards will never increase enough to justify the expense of the grading service.
Great Marketing
Some people who are looking to sell their collections have been told, "Baseball cards are worth more when they are graded". Professional card grading companies such as PSA, SGC & Beckett love to market this claim as a great justification for their services. As the value of a card goes up, so do the grading fees. It is quite common to pay hundreds, or sometimes thousands of dollars to have a Mickey Mantle or some other star card graded. There are also additional fees for shipping, handling, and insurance. Every so often, PSA or SGC will run an ingenious advertisement where they show an ungraded card that sold for a few dollars, and then show the same card, this one graded a PSA 10 that sold for hundreds-of-thousands of dollars in a recent auction. While the ad is technically true, the real reason for the value is because it is a great card - not because it was graded by PSA. Examples like this are extremely rare, but they make a great advertisement. It would be like seeing a rare diamond sold for millions of dollars and expecting to sell your wife's engagement ring for that same amount. After all, they are both diamonds, right? For that one card that came back graded as a "PSA 10", there are often a thousand of that same card that sold for far less. Please understand that we at Dean's Cards are totally unbiased when it comes to professionally graded cards. We buy and sell both graded and ungraded cards. At last count, Dean's Cards has close to 20,000 PSA graded cards in our million card inventory. We are certainly not against having PSA graded cards, but often it takes years of experience to sell them profitably.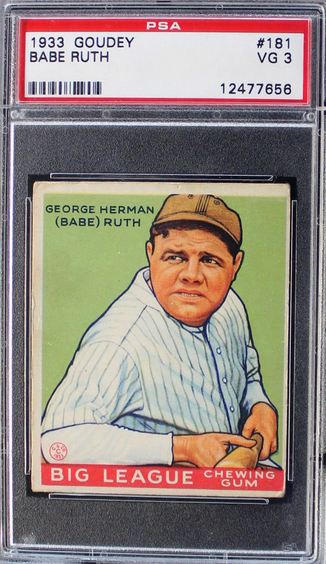 For the few cards that PSA graded a PSA 9 or PSA 10, and that have sold for millions of dollars, the vast majority of this card grades lower, and sells for a fraction of the price.
Big Changes
In November 2020, Collectors Universe (the parent company to PSA) was purchased by an investment group. This "new" PSA has greatly increased the size of the company in terms of technology, number of graders, as well as the price they charge to grade cards. PSA was still accepting bulk submissions to grade cards for $9 a piece into early spring 2020. By 2021, PSA's backlog of cards numbered in the millions, the lower priced grading programs were "paused", and the lowest price that you could pay to have a card graded by PSA was $300! Since that time, the "new" PSA has opened new offices and increased their workforce to over 1000 people, to catch up with the high demand for their grading services. The result is that the average price that they charge to grade a card has increased greatly. PSA has since reactivated some of its lower-priced grading services, but it is unlikely that the fees will ever return to the affordable levels that enjoyed in the 2010s.
Beware of the grading fees
With the high fees charged by PSA, and the other grading companies, it can be a challenge to profit from the experience. The fees often outweigh the value of having the card professionally graded. While most cards sell for a higher price after they have been graded, the value of many of the cards will never be able to absorb the grading fees. This fact is easily verified by the large number of PSA 8 cards that have sold (and not sold) for under $15. PSA used to run specials, where collectors could submit cards in bulk, and pay $8 or $9 a piece to have them graded. Dean's Cards would typically submit several thousand cards a year. In the last two years, we have probably submitted less than 50 cards! In the past, I would advise people looking to sell a collection, "It does not always make sense to get a common card graded, unless it is very old or in near-perfect condition." Today, this is even more the case. We have seen people inherit valuable collections then spend a fortune on grading fees, only to sell the collection for less than the cost of the grading services alone! If you are selling a collection, you are usually better off saving yourself the expense and us selling the cards ungraded. If you are determined to get your cards graded, please do yourself a favor and send only a few to test the results. If you are satisfied with the grades that you receive, you can always send more. PSA, SGC and Beckett are the main grading companies that I recommend. Some new companies have surfaced, but only time will tell if they become a factor within the hobby.
Some collectors prefer ungraded cards
Dean's Cards has an in-house-developed software program to grade most of the cards we sell. This shows the individual grades for dozens of a card's attributes, and enables us to sell cards for as much or even more than we could if they were encased by PSA. This software allows us to pay more for collections. HERE
We offer a money back guarantee, so if collectors do not agree with our grades, they may simply return the cards. Most true collectors decide the condition of the card themselves. Dean's Cards has found that our graded cards do not always sell as quickly as our ungraded cards, probably because of the additional cost to the collector. Many collectors are unwilling to pay a premium for a graded card. There are occasions when collectors will purchase a graded card from us and ask us to remove it from the case before shipping it to them. The graded card slabs that PSA, SGC & Beckett use are very heavy and take up a lot of storage space. Besides, some collectors want to actually touch the card and hold it in their hand.
In Conclusion
There is a place for the professional grading companies in the hobby. PSA has set the standard for grading trading cards, that we all follow. Graded cards typically sell more than it would if it were ungraded, IF it receives a favorable grade. The problem is high cost of getting cards professionally graded. I do not want to give the impression that I am totally against having cards professionally graded by PSA, SGC or Beckett – I am not. But, it is sometimes hard to do this profitably without years of experience. If you are looking to sell a vintage card collection, I recommend submitting the cards to us ungraded. We have developed a bid software that allows us to value the cards and offer a very strong bid. Please feel free to contact us here for more information. I hope this information has brought clarity on whether or not it is the right fit to pursue professional card grading services. By Dean Hanley