Stan Musial Baseball Cards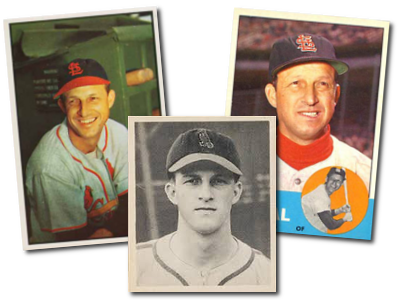 "Stanley Frank "Stan" Musial (born Stanisław Franciszek Musiał; November 21, 1920 – January 19, 2013) was an American professional baseball player and Navy veteran of World War II. He was a Major League Baseball (MLB) outfielder and first baseman on the St. Louis Cardinals for 22 seasons, from 1941 through 1963. Nicknamed "Stan the Man", Musial is widely considered to be one of the greatest hitters in baseball history. He compiled 3,630 career hits, ranking fourth all-time and first in a career spent with only one team. With 1,815 hits at home and 1,815 on the road, he also is considered to be the most consistent hitter of his era. He hit 475 home runs during his career, was named the National League's (NL) Most Valuable Player (MVP) three times, and won three World Series championship titles. He shares the MLB record for the most All-Star Games played (24) with Hank Aaron and Willie Mays. Musial was a first-ballot inductee into the Baseball Hall of Fame in 1969." - Wikipedia
Stan Musial baseball cards
are coveted by baseball card collectors since he was an idol of many fans -- especially Midwestern fans -- throughout his lengthy career. Baseball card collectors also know another unique fact about Musial. From 1954 through 1957, there were no Stan Musial baseball cards available because he would not sign a contract with Topps. Musial previously had a contract with Bowman, and there were
Musial cards
available before 1954.
Musial was 43 years old when he played his last game for the Cardinals. He became a beloved fixture in the St. Louis community, often showing up at events to play his harmonica.
The search below shows every Stan Musial baseball card now available -- including our exclusive Team Starter Sets -- along with prices and scans of the ACTUAL CARDS. At Dean's Cards, "What you see is what you get!"
By Dean Hanley