Willie Mays Baseball Cards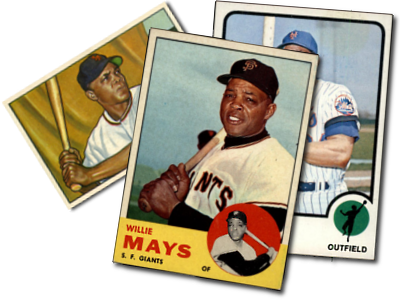 Willie Mays baseball cards are some of the most desired in the hobby. During the decades of the 1950s and 1960s, Willie Mays was arguably the best player in the game or at least in the NL.
What I always liked about Willie Mays baseball cards was that he was one of the few super stars that did not sign an exclusive contract and had both Bowman and Topps Baseball cards from 1952 to 1955.
Willie Mays baseball cards in nice condition are often tough to find. The only reason that I can think of that makes his cards so condition sensitive, is that he was so popular with the kids when the cards were issued. It seemed that everyone wanted to handle his card.
The search below shows every Willie Mays baseball card now available along with prices and scans of the ACTUAL CARDS. At Dean's Cards, "What you see is what you get!"
By Dean Hanley