1976 Topps -79 Texas Rangers Team Starter Set / Lot - Md
EX/MT - 6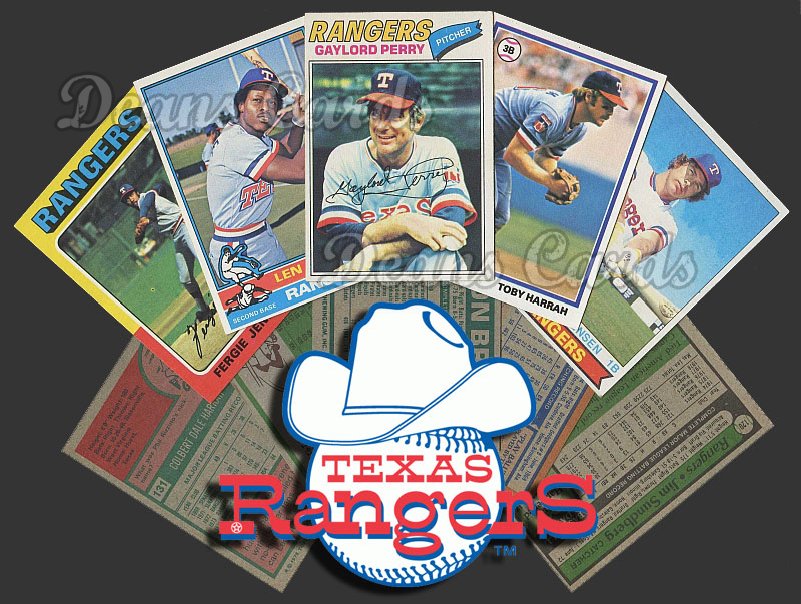 Representative Image
--- $80 Value if purchased separately ---

This 1976-79 Texas Rangers Team Starter Set / Lot contains 50 different late 1970's Topps cards of Texas Rangers players.
This Texas Rangers Team Set will include many of the following players: Jim Sundberg, Toby Harrah, Mike Hargrove, Bump Wills, Juan Beniquez, Tom Grieve, Jeff Burroughs, Lenny Randle, Richie Zisk, Roy Howell, Al Oliver, Bert Campaneris, John Ellis and many more.
This lot will also include many of these top Rangers pitchers: Fergie Jenkins, Gaylord Perry, Doyle Alexander, Steve Comer, Jim Umbarger, Bert Blyleven, Dock Ellis, and Jon Matlock.
Team Starter Sets are a great way to buy large quantities of cards at an affordable price. Dean's Cards Starter Sets are priced 25%-50% lower than if you purchased the cards individually. On top of the already discounted prices, our quantity discount still applies!
The condition of the cards will vary between "Very Good" to "Excellent/Mint", for non-collectors, these cards are in "Average" condition. Some cards will show wear on the corners, but are still very collectible and attractive to the eye.
All cards in the Starter Sets are our choice, but there will be a wide variety of different players, with plenty of your favorites. This team starter set makes a great gift for any Texas Rangers fan.
Please note that Starter Sets are the only product we sell that cannot be returned due to the labor involved in building the set.