1975 Topps -79 California Angels Team Starter Set / Lot - Md
EX/MT - 6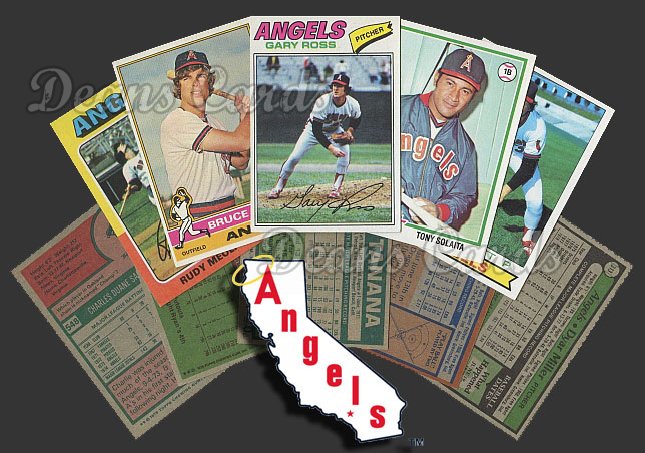 Representative Image
This 1975-79 California Angels Team Starter Set / Lot contains 50 different late 1970 's Topps cards of California Angels players.
This California Angels Team Set will include many of the following players: Dave Chalk, Don Baylor, Jerry Remy, Ron Jackson, Bobby Grich, Joe Rudi, Brian Downing, Carney Lansford, Bruce Bochte, Bobby Bonds, Terry Humphrey, Rick Miller, Tony Solaita and many more.
This lot will also include many of these top Angels pitchers: Nolan Ryan, Frank Tanana, Dave LaRoche, Dave Frost, Paul Hartzell, Don Aase, Chris Knapp, and Ed Figueroa.
Team Starter Sets are a great way to buy large quantities of cards at an affordable price. Dean's Cards Starter Sets are priced 25%-50% lower than if you purchased the cards individually. On top of the already discounted prices, our quantity discount still applies!
The condition of the cards will vary between "Very Good" to "Excellent/Mint", for non-collectors, these cards are in "Average" condition. Some cards will show wear on the corners, but are still very collectible and attractive to the eye.
All cards in the Starter Sets are our choice, but there will be a wide variety of different players, with plenty of your favorites. This team starter set makes a great gift for any California Angels fan.
Please note that Starter Sets are the only product we sell that cannot be returned due to the labor involved in building the set.