1911 T205 Gold Border Reprint Complete Set
NM/MT - 8
Representative Image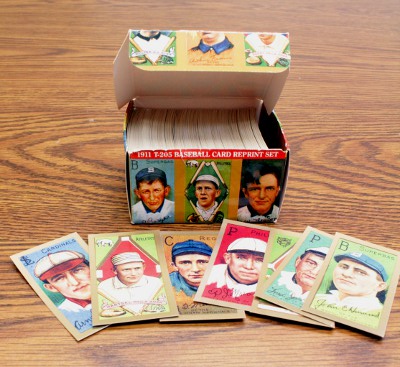 Representative Image
The American Tobacco Company issued its original T205 Gold Border set in 1911. Because of the gold leaf borders and brightly colored pictures, many collectors attest that this particular set is the most beautiful tobacco card set ever issued.
The original cards were inserted into various brands of cigarette packages including: Hasan, Polar Bear, American Beauty, Cycle, Piedmont, Sovereign, Sweet Caporal, Honest, Broadleaf, Hindu, and Drum. The "Gold Borders" made it possible for a player bio and player statistics to appear on the reverse.
The set consists of three different leagues: the American, National, and Minor Leaguers. The American League players can be identified by the baseball diamond surrounding the portrait of the player along with their team logo near the top. The National League cards can be identified by their simple colored background along with a facsimile autograph of the player. The Minor League cards were printed with noticeably different and more elaborate borders.
This set contains numerous stars including: Cobb, Mathewson, Johnson, Speaker, Young, and numerous others. T205's are very hard to find in high grade due to the chipping of their gold leaf border, therefore this reprint set is a great way to obtain replica cards in near perfect condition at an affordable price.