1933 Goudey Reprints Complete Set
NM/MT - 8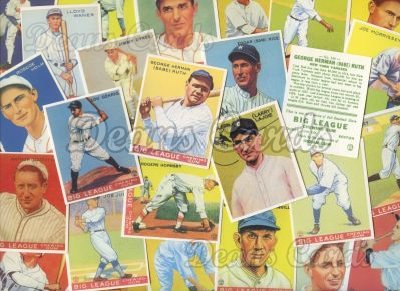 Representative Image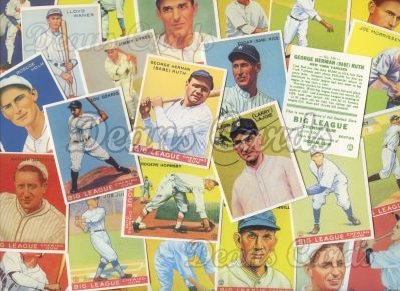 Representative Image
The reprinted 1933 Goudey Baseball Card set features 240 full-color cards with the same dimensions (2 3/8" x 2 7/8") as the original 1933 Goudey Baseball Cards.  This set was reprinted in 1983 by the Galasso Company.  Original 1933 Goudey baseball cards are very difficult to find in Near Mint condition today. Each card is an illustration of a major or minor leaguer with a short biography on the back.
Players featured in this set include: Ruth, Gehrig, LaJoie, Hornsby, Dean, Foxx, Dickey, Maranville, Ott, Wilson, Gomez, Grove, Hartnett, Gehringer, Hubbell, Lazzeri, Frisch, Traynor, Speaker, and many others.

The original 1933 Goudey baseball cards cost approximately $175 for a common card and up to $25,000 for the exceedingly rare Nap LaJoie card (#106). A complete original set (without the LaJoie card) would cost over $40,000 in Excellent/Mint condition. 
Price
$75.00
$71.25 after 5% discount