1987 Topps Baseball Complete Set 8 - NM/MT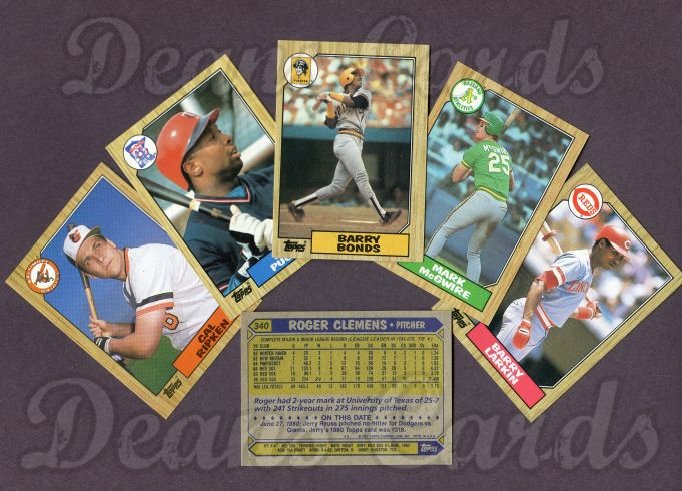 Representative Image
The 1987 Topps set includes 792 cards that have wood grain borders and blue and yellow backgrounds. The first seven cards feature Record Breakers while cards 595-616 feature the All-Stars.
The 1987 Topps set includes Hall-of-Famers such as: Nolan Ryan, Ozzie Smith, Rickey Henderson, Eddie Murray, Robin Yount, George Brett, Mike Schmidt, Reggie Jackson, Paul Molitor, Steve Carlton, Phil Niekro, Don Sutton, Sparky Anderson, Carlton Fisk, Dave Winfield, Gary Carter, Eddie Murray, Dennis Eckersley, Bruce Sutter, Goose Gossage, Dick Williams, Cal Ripken Jr. Tony Gwynn, Ryne Sandberg, Wade Boggs, Kirby Puckett and Pete Rose.
Other 1987 stars cards include: Roger Clemens, Bo Jackson, Barry Bonds, Mark McGuire, Will Clark, Don Mattingly, Jose Canseco, Rafael Palmeiro and Barry Larkin.
Price
$55.00
$52.25 after 5% discount