American Caramel Baseball Cards (E90-2)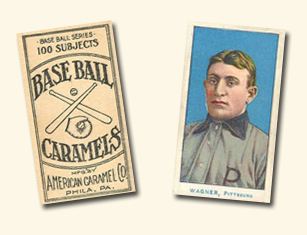 Produced by the American Carmel Company, the E90-2 baseball card subset portrays 11 players, each picked from the Pirates team. The full color portraits are surrounded by a white border. The unnumbered set features a "Baseball Caramel" advertisement on the back.
We are always buying American Caramel Cards! Click Here for more information!
- 1910 - E90-2 - American Caramel
- 11 Cards That Measure 1-1/2" x 2-3/4"
- Common Card Value in "Good": $150
- Set Popularity: Popular (6 out of 10)
- Scarcity of Cards: Average (5)
- Difficulty to Complete Set: Very Difficult (8)
Looking to Buy American Caramel Baseball Cards? Click here to see what we have!
American Caramel Checklist:
# 1 Babe Adams- 1910 American Caramel (E90-2)
# 2 Fred Clarke- 1910 American Caramel (E90-2)
# 3 George Gibson- 1910 American Caramel (E90-2)
# 4 Ham Hyatt- 1910 American Caramel (E90-2)
# 5 Tommy Leach- 1910 American Caramel (E90-2)
# 6 Sam Leever- 1910 American Caramel (E90-2)
# 7 Nick Maddox- 1910 American Caramel (E90-2)
# 8 Dots Miller- 1910 American Caramel (E90-2)
# 9 Deacon Phillippe- 1910 American Caramel (E90-2)
# 10 Honus Wagner- 1910 American Caramel (E90-2)
# 11 Owen Wilson- 1910 American Caramel (E90-2)