1952 Topps Baseball Cards Set a New Benchmark
The 1952 Topps Baseball Card set was the first mainstream set issued by the Topps Gum Company and far surpassed all earlier sets in size, quality and quantity. The giant sized cards symbolized America's new postwar prosperity and became an instant hit with collectors and set a new benchmark for the hobby.
The upstart Brooklyn based Topps company carefully planned its attack on Bowman's dominant position in the baseball card market. The 1952 Topps Baseball Cards were the first set that was issued in six series -- and Topps clearly saved the best for the last series that aimed directly at their New York hometown and biggest market. Series #6 was a Who's Who of Gotham stars starting with the first card in the series, #311 Mickey Mantle. This was followed by #312 Jackie Robinson, 1951 Giants "Shot heard around the world" Hero #313 Bobby Thompson, #314 Roy Campanella and #315 Leo Durocher.
1952 Topps Mickey Mantle Card Was Double Printed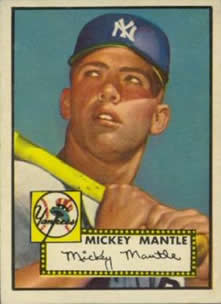 Most people can name the most valuable post-war baseball card as the 1952 Topps #311 Mickey Mantle, but few realize that it was "double printed", which means that the printed sheets contained two Mantle cards and twice as many were printed when compared to normal cards. One can only guess what the value of Mickey's 1952 card would be if it were not a double print!
Unfortunately, most collectors would never get a chance to purchase the great cards of Series 6. Many retailers, who had not yet become accustomed to late season attraction of the super stars in the last series, refused to buy more product in September and did not place orders for the sixth series of cards.
The 1952 Topps 6th series was distributed in such low numbers that it is the toughest and most expensive high number series in the history of collecting and the hardest set to complete. For the next decade, Topps tried to give away these cards at various promotions, until the company finally gave up and dumped the remaining 1952 Topps cards into New York Harbor! Just think, in 1960 someone could have purchased these cards from Topps for pennies on the dollar.
Dean's Cards is currently offering the best selection of 1952 Topps cards that we have ever seen. And we are always
building custom sets
of 1952 Tops baseball cards for collectors from our inventory to give our customers a complete set of consistent quality.