1887-90 N172 Old Judge Baseball Cards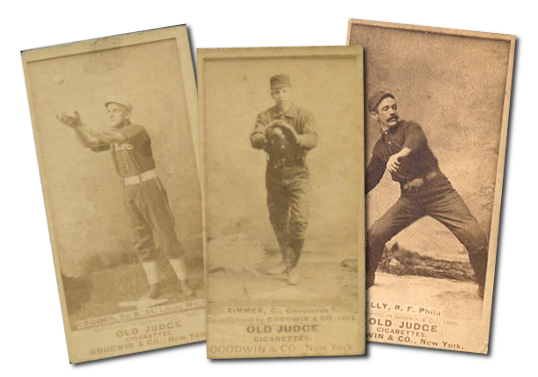 The 1887-1890 N172 Old Judge baseball card set consists of approximately 500 cards that measure 1-7/16" by 2-1/2".  These cards were included with a pack of Old Judge cigarettes, which were manufactured by E. Goodwin & Company.  This popular 19th century release is a nearly impossible set to complete.

"Browns Champions" cards from this set refer to the 13 players from the Browns championship team of 1886.  This subset is popular with collectors due to the subject matter and attractive pictures, and luckily the cards are more easily found than other players in the set.
Some of the more well known (but harder to find) cards in the set are referred to as the "Spotted Tie" cards.  The nickname given due to the fact that featured players are shown all with the same ties.  They are also all players for the 1887 New York Mets.
The 1887-90 N172 Old Judge set contains 25 hall-of-famers: N172 Cap Anson, Jacob Beckley, Dan Brouthers, John Clarkson, Charles Comiskey, Roger Connor, Ed Delehanty, Hugh Duffy, Buck Ewing, Pud Galvin, Clark Griffith, Billy Hamilton, Tim Keefe, Mike Kelly, Connie Mack, Tommy McCarthy, Kid Nichols, James O'Rourke, Hoss Radbourne, Wilbert Robinson, Amos Rusie, Sam Thompson, John Montgomery Ward, Mickey Welch and Harry Wright.
By Dean Hanley
CLICK HERE if you want to sell your 1887-90 N172 Old Judge Baseball Cards.